Cleaning and maintaining our homes is certainly a time consuming task. In fact, the average American woman spends more than 2 hours each day with household chores. Luckily, there are many home cleaning hacks we can use to speed up these mandatory home activities.
Short on time? Pin now and you can read about Home Cleaning Hacks later!
If you're anything like me, you default to your habits and routines–especially when cleaning the house. There are so many mundane household tasks that must be done daily, that it's difficult not to zombie through the cleaning and home management routines.
How do I make my house easier to clean?
There are actually many changes we can put in place that will make our house much easier to clean and maintain. Finding ways to simplify the chores that take up the majority of your time will give you the most efficient routines at home.
Top 7 Ways to Simplify Cleaning
Pitch the blinds
Washable window coverings
Floors–best way to pick up dust and dirt
Floors–best way to wash
The most efficient laundry routine
Speed Cleaning
Let's start with window coverings…
---
This post may contain affiliate links meaning that I may earn a small percentage (at no extra cost to you) if you make a purchase through a link that I share. See full disclosure.
---
Cleaning Hacks for Window Coverings
When we purchased our home, almost every window had faux wooden blinds, and I'm not sure they had been properly cleaned in a very long time.
Thorough blind cleaning was the most dreadful task no matter what cleaning secret or hack I tried. I tackled one window each day, and it didn't take many days for me to call it quits.
I took all of the faux wooden blinds down!
I couldn't believe how much dust this eliminated and how much bigger and brighter the rooms looked. But I still needed something on the windows.
The front of our home has plantation shutters on the windows, so those stayed in place.
They are beautiful and extremely easy to clean and maintain. But, installing plantation shutters on the rest of our windows was way out of our budget.
I needed some type of replacement for the dusty-impossible-to-clean window blinds.
A solution that would be easy to maintain and simple to clean.
I have a severe dust allergy, so it's essential that my window coverings are easy for me to clean frequently.
Window coverings that make my life easier…
I don't know how long these have been in the world or what took me so long to find them, but I'm sure glad I did!
They couldn't be easier to install and they have no cords that pose a danger to kids and pets. Mine are magnetic and fold up easily.
The best part:
They are WASHABLE!
The shades are so easy to remove for washing!


Clear the Clutter to Make Cleaning Easier
A cluttered home is impossible to clean. I can't even focus on cleaning when clutter is all over my house.
Clearing the clutter from your home reduces your cleaning efforts big time!
CLICK HERE TO READ: 18 Things Making Your House STILL Look Cluttered: Decluttering Tips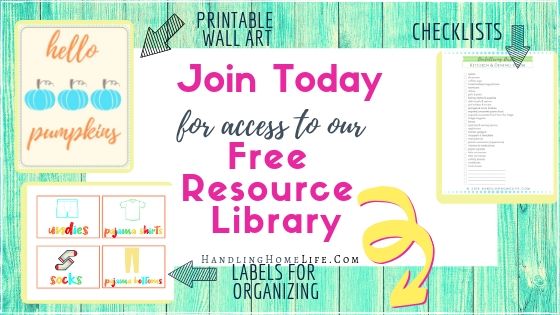 Home Cleaning Hacks to make Cleaning Floors Easier
Oh the floors…how much of my life has been spent cleaning floors? (A LOT!!)
The ideal way to simplify floor cleaning is to have low maintenance flooring throughout your home.
But unless you are in the process of home design while building or remodeling, you may have to work with what you have.
Our home has carpet and tile with the exception of the master bedroom where we replaced the carpet with wood floors. Eventually, we will replace the flooring throughout the house, but we started with the bedroom since my dust allergy is so terrible.
CLICK TO READ: Best Cleaning Tools for Your Home
Our kitchen floor and dining area has tile that's older and wasn't well maintained by the previous owner, so there are many chips in the tile. The grout looks terrible—I'm not sure it was ever sealed properly.
Here's the thing:
If you have tile floors, be CERTAIN that you follow the recommendations for applying and reapplying the grout sealer. It makes a tremendous difference in the amount of effort you will have to put forth to keep the tile floors clean.
So if you're like me and can't replace your flooring right now, we have to work with what we have.
CLICK HERE TO READ: House Cleaning Tips: Why Your House Still Doesn't Look Clean
Carpet Cleaning Hacks
I have a Roomba and love it. I have the basic model (purchased in 2016) but it has been a HUGE time saver for me! She works great on my carpet, tile, and wood floors.
The latest Robotic Vacuums have tons of features—they can be connected to wifi and are compatible with Alexa.
My only complaint with my Roomba is having to empty the small canister after she has a run. This get my allergies all angry and hubby isn't always around to empty it for me.
So I will be upgrading to this fancy Roomba someday. Pure genius! The vacuum empties it's bin on it's own when it docks, so you can wait weeks before needing to empty the base.

And to lighten your floor mopping work, check out the Robot Mops.
I use this flat mop for quick floor clean ups….I just spray a bit of Force of Nature and quickly spot clean.
This is, by far, the best flat mop I've owned. (and I've tried many different ones!)
How Can I Make Laundry Easier?
Laundry used to be another time-sucker for me and I dreaded every second of it.
When I started doing my family's laundry like this, I reclaimed my time and laundry is no longer the monotonous chore it used to be.
What are the best home cleaning products to make cleaning easier?
It's an incredible hassle to try to keep up with multiple cleaning products for all of the different cleaning needs in your home.
Having numerous cleaners can be expensive and takes up lots of storage space. Stopping to read labels for each different bottle to see what-cleans-what wastes a great deal of time.
Non toxic ingredients in my cleaners is of utmost importance as well as a reasonable price tag.
So, could

ONE all purpose cleaner

really clean all the various surfaces in my home?
After oodles of research, trial and error, and money spent—I finally found the best, all purpose cleaner for my home.
I've been using Force of Nature for almost two years and it truly is the ideal multi purpose cleaner.

Force of Nature = Uncomplicated Cleaning
I use it to clean everything and recently I've been using these e-cloths too.

How do You Clean House Fast?
When we simplify our cleaning tasks, then cleaning takes much less time. But, sometimes we have to clean the house really quickly.
Make sure you know how to speed clean your home when you are expecting last minute guests!
What home cleaning hacks do you use to simplify your cleaning routine? I'd love to hear in the comments below!
BEFORE YOU LEAVE….will you do me a BIG favor?
If you liked this and thought it was helpful, would you share to Pinterest or Facebook? It lets the search engines know that I provide quality content and helps keep my website alive.
Thank you SO much!!