As a mom of four boys, I understand the need for practical yet stylish home decor that can withstand the chaos of family life. Today, I want to share some delightful DIY farmhouse home decor ideas that will add rustic charm and warmth to every room in your house. So, let's dive right in and discover some simple and affordable ways to achieve that timeless farmhouse look throughout your home.
Is Farmhouse Style Still Trending?
The rustic charm and cozy appeal of farmhouse decor resonates with many people, and it continues to gain significant popularity. Farmhouse style is constantly evolving and there are countless ways to personalize this style to become your own.
SHORT ON TIME? >>SAVE TO PINTEREST << TO READ ABOUT FARMHOUSE DECOR IDEAS LATER!
Farmhouse home decor is the perfect opportunity to mix in vintage or antique pieces that add character and charm. For a modern farmhouse aesthetic you can include industrial elements, such as reclaimed wood, or exposed beams.
---
This post may contain affiliate links meaning that I may earn a small percentage (at no extra cost to you) if you make a purchase through a link that I share.  As an Amazon Associate I earn from qualifying purchases. See full disclosure.
---
How to Decorate a Home Farmhouse Style?
Decorating a house in farmhouse style can create a cozy and inviting atmosphere. Here are some tips to help you achieve the look:
Neutral color palette such as whites, creams, or light grays
Rustic elements such as reclaimed wood, distressed furniture, and exposed beams
Farmhouse furniture such as a distressed coffee table or vintage-inspired sofa. Look for pieces with simple lines and natural materials.
Vintage accessories like old milk bottles, antique signs, weathered frames, or vintage kitchenware
Textiles and patterns: Incorporate cozy textiles, such as plaid or gingham patterns, in your curtains, pillows, and throws.
Farmhouse Lighting: Opt for lighting fixtures that complement the farmhouse style, such as pendant lights with metal or glass shades, wrought iron chandeliers, or rustic-inspired wall sconces.
Open shelving: Consider adding open shelves in your kitchen or living area. Display your collection of farmhouse-inspired dishes, mason jars, and other vintage items.
Greenery and floral accents with fresh flowers, potted plants, and greenery. Use vintage-inspired planters or galvanized metal containers to enhance the farmhouse aesthetic.
Cozy textiles like knit blankets, fluffy rugs, and plump cushions to add warmth and comfort
Personal touches: Incorporate personal touches & family heirlooms. Display family photos, handmade crafts, or sentimental items to add a personal touch to the space.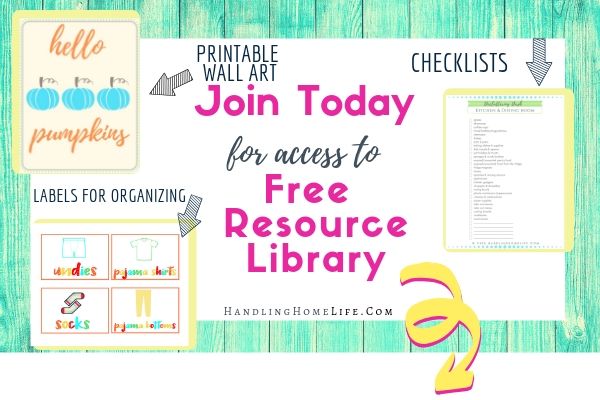 Farmhouse Decor Ideas for a Welcoming Entryway
The entryway sets the tone for your home, so let's start there. Consider adding a vintage wooden bench or a repurposed console table with a distressed finish.
A great way to incorporate farmhouse decor is to hang a rustic wooden sign with a welcoming message or take it a step further and personalize it with your family name.
Enhance the farmhouse vibe with a natural woven rug and a charming arrangement of mason jars filled with fresh flowers.
01 SIMPLE COZY ENTRYWAY
02 FARMHOUSE HOME DECOR IDEAS FOR A WELCOMING ENTRY
03 MODERN FARMHOUSE ENTRY
04 FARMHOUSE HOME DECOR IDEAS WITH STORAGE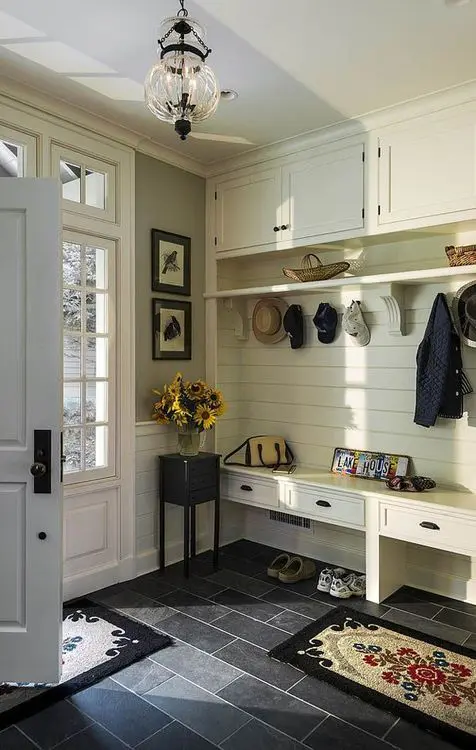 05 COTTAGE STYLE ENTRYWAY
06 BRIGHT AND INVITING
07 SHABBY CHIC FARMHOUSE ENTRY
08 Plenty of Storage
09 FARMHOUSE MUDROOM ENTRANCE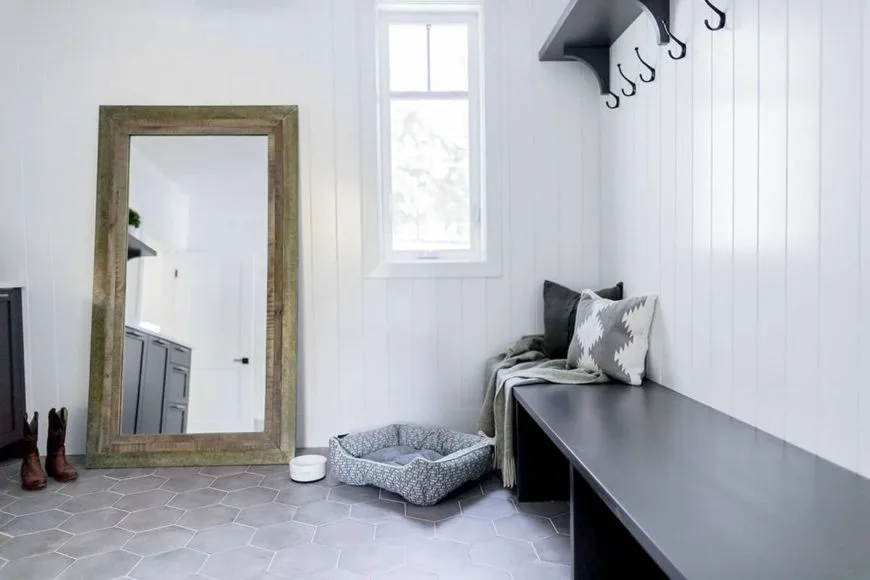 10 COZY FALL FARMHOUSE ENTRYWAY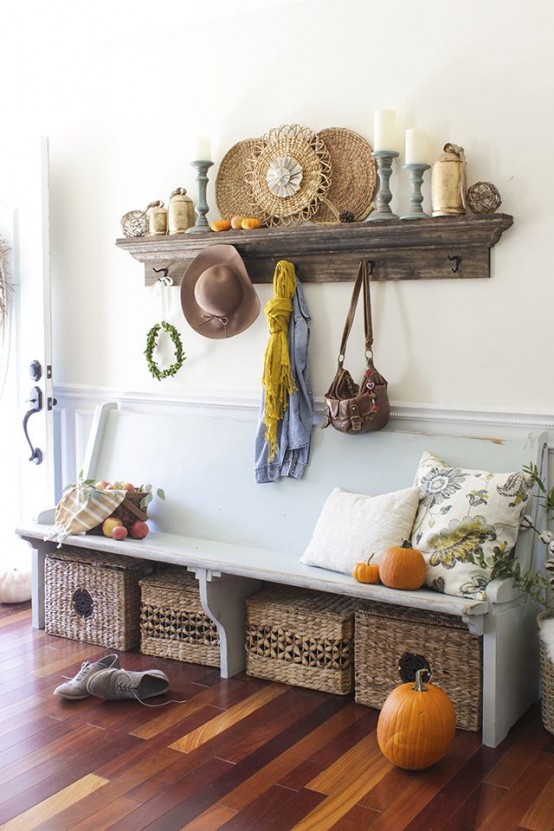 11 VINTAGE REPURPOSED ENTRYWAY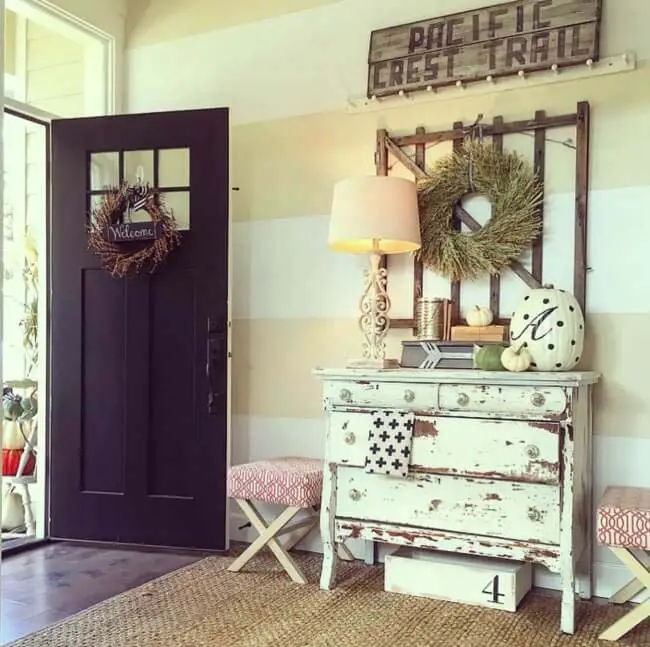 12 COZY COUNTRY ENTRY WITH FARMHOUSE BENCH
13 BRIGHT AND ELEGANT ENTRY
14 DIY CONSOLE TABLE ENTRYWAY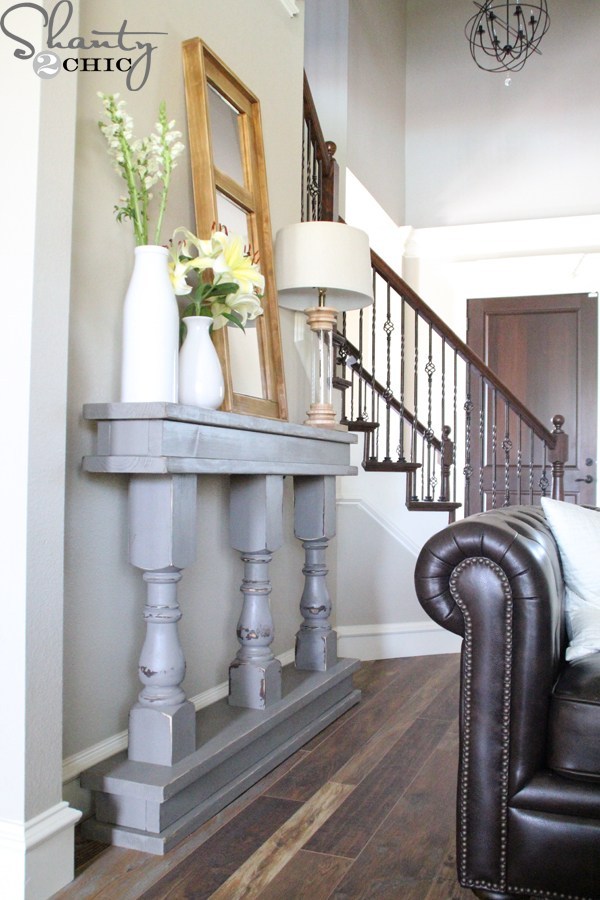 15 VINTAGE COASTAL FARMHOUSE ENTRY
16 MIX OF MODERN AND ANTIQUE
Cozy Farmhouse Living Room Farmhouse Home Decor Ideas
Create a cozy feel in your living room with these farmhouse home decor ideas.
Choose comfortable seating with upholstered cushions in earthy tones, and consider slipcovers for a relaxed look (choose washable to easily keep them clean!)
Recover worn-out throw pillows with grain sack fabric or opt for neutral-colored linen covers. Add a touch of warmth with a chunky knit throw draped over the couch.
Incorporate distressed and rustic furniture pieces, such as a weathered coffee table, reclaimed wood shelves, and vintage-inspired textiles.
Decorate with vintage accents and accessories like antique clocks, lanterns, or rustic signs. Display fresh flowers in rustic vases or houseplants in galvanized metal containers.
Personalize the space with family photos, handmade crafts, antique or sentimental items to add a warm and inviting touch.
For wall decor, consider framing botanical prints or hanging a large antique-style clock as a focal point.
17 FARMHOUSE LIVING ROOM WITH CUPBOARD
18 FARMHOUSE HOME DECOR IDEAS ON A BUDGET
19 WOODEN TRUNK TURNED COFFEE TABLE
20 OVERSIZED WALL CLOCK
21 CHARMING FARMHOUSE HOME DECOR IDEAS
22 CLASSIC FARMHOUSE STYLE
23 FARMHOUSE HOME DECOR IDEAS IN A SMALL SPACE
24 DIY FARMHOUSE BLANKET LADDER
25 ANTIQUE MILK CAN COFFEE TABLE
26 BOHO FARMHOUSE DECOR STYLE
27 FUNCTIONAL FARMHOUSE LIVING SPACE
28 COUNTRY FARMHOUSE WITH SHIPLAP WALLS
29 GRAY AND WHITE FARMHOUSE IDEAS
30 MIXED MATERIALS FOR TEXTURE
31 MODERN FARMHOUSE HOME DECOR IDEAS
32 RUSTIC FARMHOUSE MANTLE
FARMHOUSE HOME DECOR IDEAS IN THE KITCHEN
The heart of any farmhouse-style home is the kitchen. Embrace the beauty of natural materials and farmhouse home decor ideas by installing open wooden shelving to display your favorite ceramic dishes, mugs, and glassware.
Swap out modern hardware for antique-inspired drawer pulls and knobs. Create a charming farmhouse centerpiece with a vintage breadbox filled with fresh produce or a bouquet of herbs.
33 RUSTIC FARMHOUSE CHARM
34 FARMHOUSE SINK
35 RUSTIC EXPOSED BEAMS
36 MIX OF MODERN AND RUSTIC
37 COPPER FARMHOUSE SINK
38 FARMHOUSE DECOR IDEAS WITH OPEN SHELVES
39 EXTRA LONG RUSTIC CUSTOM KITCHEN ISLAND
40 BALANCE OF RUSTIC AND REFINED
41 CLASSIC FARMHOUSE DECOR WITH OPEN SHELVING
42 REPURPOSED DRESSER INTO KITCHEN ISLAND
43 MODERN-RUSTIC FARMHOUSE HOME DECOR IDEAS
44 GALVANIZED LIGHT FIXTURES
45 RUSTIC ELEGANCE WITH EXPOSED SUPPORT BEAMS
46 EUROPEAN FARMHOUSE HOME DECOR IDEAS
47 VINTAGE FARMHOUSE HOME DECOR IDEAS
48 FARMHOUSE PORCELAIN SINK
COZY FARMHOUSE HOME DECOR IDEAS FOR THE BEDROOM
Achieve a serene farmhouse-style bedroom by selecting a neutral color palette and incorporating natural textures.
Choose a wrought iron bed frame or a distressed wooden headboard for a touch of rustic elegance. Dress your bed with crisp white linens and add cozy layers with a handmade quilt or knitted blanket.
Hang sheer curtains to allow soft natural light to filter through, creating a dreamy ambiance.
49 DREAMY FARMHOUSE DECOR
50 WHITE AND GRAY FARMHOUSE HOME DECOR IDEAS
51 FARMHOUSE HOME DECOR IDEAS WITH SHIPLAP
52 RUSTIC OLD BARNWOOD CEILING
53 OLD WOODEN DOORS TURNED HEADBOARD
54 BARN INSPIRED BEDROOM
55 CLASSIC FARMHOUSE STYLE WITH BRASS BED
56 BOHO FARMHOUSE VIBES
57 CLASSIC FARMHOUSE HOME DECOR IDEAS
58 MODERN AND COZY FARMHOUSE STYLE
59 RUSTIC BARNWOOD CEILING
60 AFFORDABLE FARMHOUSE HOME DECOR IDEAS
61 FARMHOUSE MOUNTED WALL LIGHTING
62 TRANQUIL SCANDINAVIAN FARMHOUSE BEDROOM
63 RUSTIC COASTAL FARMHOUSE BEDROOM DECOR
64 FARMHOUSE DECOR WITH TEXTURE
FUN FARMHOUSE HOME DECOR IDEAS FOR KIDS ROOMS
Farmhouse style can be fun and whimsical for your little ones' bedrooms. Incorporate farmhouse decor by opting for rustic bunk beds or vintage-inspired cribs.
Decorate the walls with adorable animal-themed prints or create a gallery wall showcasing their artwork. Use wooden crates as storage bins for toys, and hang cute burlap or cotton pennant banners to add a touch of farmhouse charm.
Farmhouse home decor ideas can be the perfect fit for your tweens and teens. Create a farmhouse-inspired haven that your tweens and teens will love to call their own!
65 FARMHOUSE BEDROOM FOR GIRLS
66 FARMHOUSE HOME DECOR IDEAS FOR BOYS BEDROOM
67 COTTAGE STYLE KIDS ROOM
68 BOHO FARMHOUSE STYLE GIRLS ROOM
69 RUSTIC FARMHOUSE ROOM FOR TEEN BOYS
70 FARMHOUSE HOME DECOR IDEAS: SHARED NURSERY
71 SHARED FARMHOUSE NURSERY BEADED CHANDELIER
72 SHABBY CHIC FARMHOUSE NURSERY
73 SHARED BEDROOM WITH VINTAGE CHARM
74 COUNTRY FARMHOUSE HOME DECOR IDEAS FOR SHARED ROOM
75 RUSTIC FARMHOUSE FOR KIDS OR GUEST ROOM
76 GIRLS FLOWERY FARMHOUSE HOME DECOR IDEAS
77 MODERN FARMHOUSE KIDS ROOM
78 CLASSIC FARMHOUSE KIDS SHARED ROOM
79 KIDS BEDROOM WITH CLASSIC FARMHOUSE STYLE
80 SWEET & SIMPLE PINK FARMHOUSE HOME DECOR IDEAS
FARMHOUSE HOME DECOR IDEAS FOR THE BATHROOM
Transform your bathroom into a farmhouse retreat by focusing on simple, clean lines and vintage-inspired elements.
Install a weathered barn door as a sliding entryway or replace your mirror with a repurposed window frame. Incorporate galvanized metal accessories, such as soap dispensers and toothbrush holders, for a touch of industrial farmhouse charm. Display fresh towels on a rustic ladder or antique hooks.
81 CHARMING FARMHOUSE BATHROOM
82 FARMHOUSE HOME DECOR IDEAS FOR SMALL BATHROOM
83 SHIPLAP BATHROOM IN A SMALL SPACE
84 FREE-STANDING TUB AND SUBWAY TILE
85 FARMHOUSE CHARM WITH A TROUGH SINK
86 VINTAGE STYLE CLAW FOOT TUB
87 RUSTIC BATHROOM WITH STONE WALL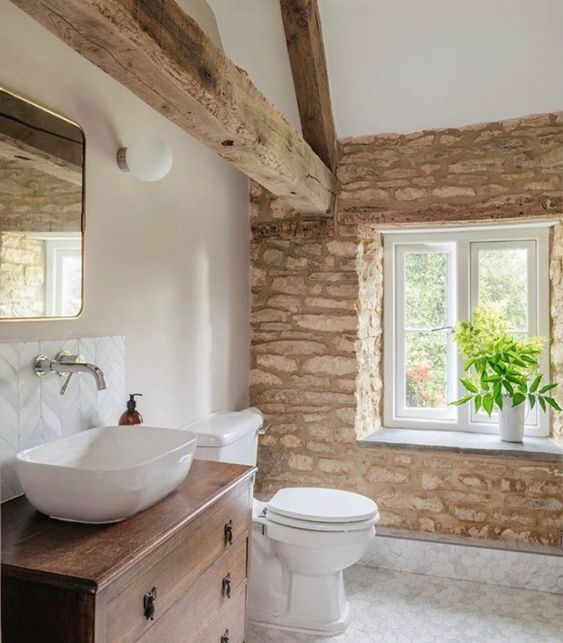 88 MODERN STYLE COUPLED WITH FARMHOUSE
89 WEATHERED WOOD & METAL SHEET WALLS
90 VINTAGE WOODEN HUTCH TURNED LINEN CLOSET
91 TRADITIONAL FARMHOUSE STYLE
92 SCANDINAVIAN FARMHOUSE STYLE
93 MODERN COASTAL FARMHOUSE
94 FRENCH COUNTRY FARMHOUSE STYLE
95 TRADITIONAL FARMHOUSE BATHROOM DESIGN
96 GLAM FARMHOUSE DECOR IDEAS
FARMHOUSE FLAIR IN THE HOME OFFICE & LAUNDRY ROOM
Finally, lets look at tips on how to infuse farmhouse home decor ideas into two essential spaces in your home: the laundry room and the home office.
FARMHOUSE STYLE LAUNDRY ROOM
Let's start with the laundry room. To achieve that rustic farmhouse vibe, consider using a combination of white and light-colored cabinets, which will give the room a fresh and airy feel.
Add some open shelving made from reclaimed wood to display woven baskets for storage. Incorporate vintage-inspired accents like a porcelain farmhouse sink and antique-style hardware.
Don't forget to include practical elements like a folding station and a hanging rod for freshly laundered clothes.
97 LAUNDRY ROOM WITH FUNCTIONAL FARMHOUSE STYLE
98 FARMHOUSE LAUNDRY ROOM WITH OPEN SHELVES
FARMHOUSE STYLE FOR THE OFFICE
Now, onto the home office! Opt for a clean and minimalist desk in a natural wood finish. Pair it with a comfortable chair upholstered in a neutral fabric.
Add a touch of farmhouse charm with a distressed wooden bookshelf or a vintage-inspired desk lamp. Keep your desk organized with storage solutions like baskets or wire bins for paperwork and supplies.
Finally, add some personal touches like potted plants or framed inspirational quotes to make the space feel warm and inviting. Remember, creating a farmhouse-style laundry room and home office is all about combining functionality with rustic elegance.
99 INDUSTRIAL FARMHOUSE HOME OFFICE
100 FARMHOUSE STYLE HOME OFFICE
101 RUSTIC FARMHOUSE HOME OFFICE
Bringing farmhouse-inspired decor into your home doesn't have to be overwhelming or expensive. By incorporating these simple DIY ideas, you can infuse every room with rustic charm and create a cozy, uncluttered space for your family to enjoy.
Remember, the farmhouse style is all about embracing imperfections and the beauty of simplicity. So, let your creativity flow and have fun as you turn your house into a farmhouse haven!
BEFORE YOU LEAVE….will you do me a BIG favor? If you liked this and thought it was helpful, would you share to PINTEREST or Facebook? It lets the search engines know that I provide quality content and helps keep my website alive. Your support means the world to me….thank you so much!
Take a peek at some other Handling Home Life articles I think you'll love ❤ !