How to Declutter Your Home Quickly
Fastest way to declutter your home! The best tips on how to declutter your home fast. Have you ever wondered how do you get rid of a lot of stuff fast? There are ideas on this page on how to easily declutter your home fast, and great tips when extreme decluttering your home.
Did you know that people in cluttered homes are more anxious and more stressed than those living without clutter ? When you don't declutter your home and 'stuff' is out of control, it not only creates emotional distress, it also costs money and precious time!
---
This post may contain affiliate links meaning that I may earn a small percentage (at no extra cost to you) if you make a purchase through a link that I share. See full disclosure.
---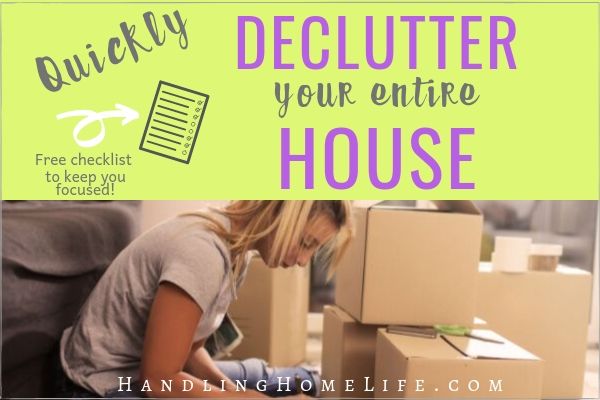 SHORT ON TIME? SAVE TO PINTEREST NOW TO READ ABOUT HOW TO DECLUTTER YOUR HOME LATER!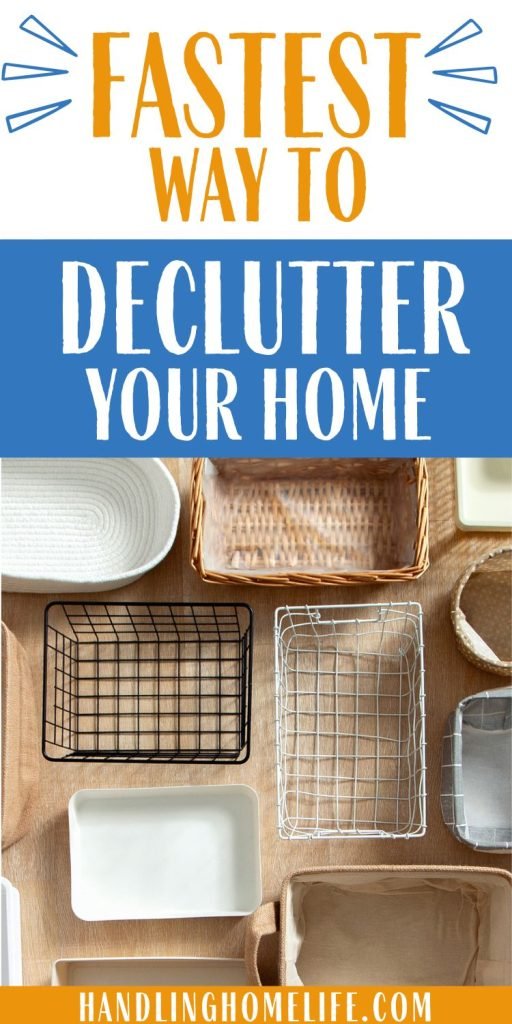 We don't have to adopt a full-on minimalist mindset to have a clutter free home that we love. Let's take some small steps to clear the clutter and simplify our homes.
How Can I Reduce Clutter in My Home?
Realistically, some level of clutter is inevitable for most of us–especially if you have kids. But what usually happens is that the small pile of paperwork I need to tend to, suddenly becomes an overwhelming mountain.
And every day that the mountain grows, my stress level rises with it.
The paper task that would have taken 5 minutes to complete is suddenly a full blown panic attack and 5 hours of organizing papers!
How does clutter cause emotional distress?
Stress when not able to find the thermometer when you have a feverish child.
Embarrassment and shame when there's no time to clean when unexpected guests show up (one of my biggest pet peeves–always call or text first!!)
Constant worry that someone may ring the door bell.
Frustration that it takes 2 weeks of preparation just to have guests in your home!
Unhappiness to not be able to relax in your home.
Distress and tension that you can't have family activities such as a meal at the table together.
Constant gnawing uneasiness and dread at the thought of tackling the clutter problem.
How does clutter steal our money?
When having to buy another thermometer and constantly replacing the things that we can't find.
Late fees for bills that are forgotten at the bottom of the pile.
Missed discounts for not signing up by the deadline.
Expired coupons we forgot to use.
How does clutter steal our time?
What I would give to have back all of the time I've wasted looking for keys, shoes, a matching sock, or necessary paperwork.
Before I had systems in place and learned how to declutter, I could never find anything.
I would spend an hour looking for something, then another hour to go out and get a replacement.
I'll bet you know what would happen next. Suddenly, that thing that I wasted hours searching for–it appears!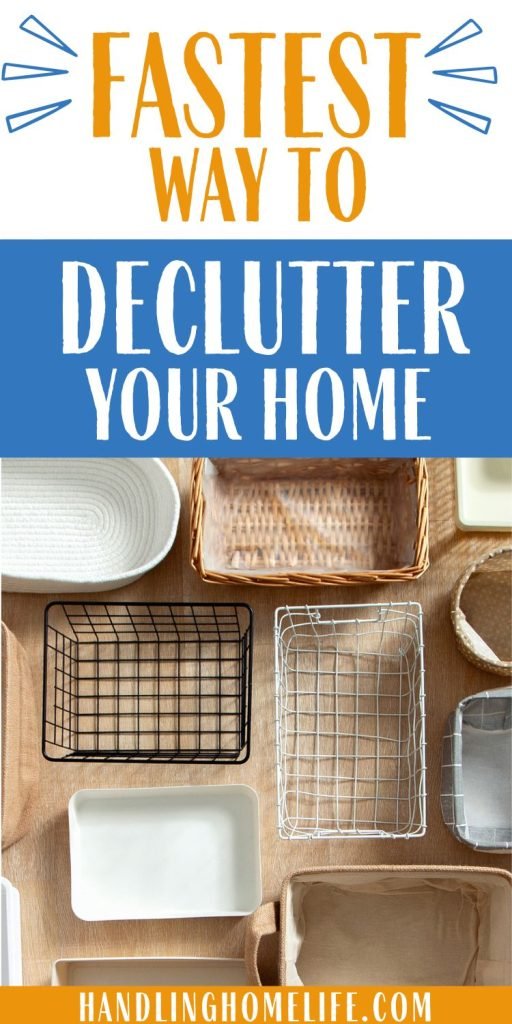 Where to Even Start to Declutter Your Home?
This is my biggest problem:
Just getting started.
There are lots of 'how to declutter your home' books that many have found helpful.
One very popular book is The Life Changing Magic of Tidying Up by Marie Kondo.
I'll just tell ya…I have not read the book.
Why?
Because the effort of getting the book and then taking the time to read it was just another way for me to procrastinate what really needed to happen.
I just had to start.
Start anywhere!!
I needed a simplified plan to approach the overwhelming house full of clutter .
So let me share my simple Decluttering Dash that will show you how to quickly declutter your home!
I want you to start with a room you would like to relax in. A place in your home you want to be able to sit back with a good book and a cup of tea or a glass of wine.
I know you want to start in the kitchen, and I promise, it's next!
But first, I want you to have one place where you can chill after you get your house decluttering on!
Hold up…Let's be Real for a Second…
If your house is anything like mine, it would take MUCH longer than a few hours to declutter and organize ALL of it.
If you have children, be certain that you keep your expectations realistic. Homes with kids always have more stuff!
Let's declutter one room at a time beginning with your relax spot:
Depending on how much time you have, you may want to only declutter one room a day.
Gather trash bags, boxes, laundry baskets….anything that will hold all the clutter stuff.
*BONUS TIP*
I use clear trash bags for my donate items and black trash bags for trash.
You will need to have a box/bag for:
Trash
Things to recycle
Things to donate or give away
Things that need to be returned to their proper home
Things to sell (this one is tricky and usually causes more clutter so try to donate, recycle, or trash unless you could realistically make enough money for it to be worth your time)
How do I know what to get rid of?
Get rid of things that don't fit well, are uncomfortable, you haven't worn it in a year, things that are worn out, stained, or damaged.
Say goodbye to items that are no longer useful or even if they are just ugly and you're tired of looking at it! If an item needs to go to it's proper home, take it there.
So let go of anything that:
doesn't fit
isn't comfortable/easy to use
haven't worn it/used it in a year
is stained, damaged, broken
is not longer useful
is ugly and you are tired of looking at it
duplicates (did I really need 7 soup ladles?!)
Declutter Your Home: Bedroom & Closet
tops/tshirts/vests
jeans/shorts/pants
shoes & boots (if you're hanging on to a pair of jelly shoes, let em go!)
socks
underwear & bras
swimwear
scarves & belts
dresses/skirts
jewelry
broken hangers
purses
workout clothes
hats & gloves
jackets
pajamas
sheets & bedding
home decor items (frames, candles, lamps, etc)
books
blankets
pillows
any stray items that don't belong

Declutter Your Home for the Kitchen/Dining Room
spices
silverware
coffee cups
travel bottles/mugs/straws
stemware
dishes
pots & pans
baking dishes & supplies
dish towels & aprons
pot holders & trivets
sponges & scrub brushes
expired/unwanted pantry food
expired/unwanted food from the fridge
fridge magnets
knives
spatulas & serving spoons
appliances
kitchen gadgets
choppers & shredders
mixing bowls
plastic containers (tupperware)
vitamins & medications
paper supplies
take out sauces
take out menus
cutting boards
cookbooks
lunch boxes
How to Simplify and Declutter the Bathroom
towels
washcloths
feminine products
shaving stuff
toothbrushes/toothpaste/floss
cotton swabs
hair products/hair brushes
make-up
skin care products
manicure/pedicure supplies
soap & bodywash
paper products
perfumes/body sprays
cleaning products
bath toys
These bathroom organization ideas will help you get your bathroom organized after you've cleared the clutter.
How to Declutter Your Home in the Playroom & Kids Rooms
clothing
shoes
jackets/gloves/hats
socks/undies
pajamas
swimwear
costumes
puzzles/games
stuffed animals
toys
outdoor toys
books
backpacks
excess art work/paper crafts
stickers
art supplies
coloring books
When you declutter and organize the playroom, your kids feel less stress.
Declutter Your Home for the Family Room/Living Area
vases
throw pillows
furniture
baskets
DVDs/CDs
blankets
home decor items (candles, frames, vases etc)
remotes/cords
books
magazines
papers/notebooks/pens
Declutter the Office Clutter
printers & other electronics
office supplies (staples, paper clips, pens, etc)
office paper supplies (envelopes, post-its, etc)
junk mail/unwanted paperwork
receipts
cords
taxes
checkbooks
instruction manuals
stationary
files
coupons & receipt
Declutter Your Home: Storage Closets
wrapping paper/bows
pet supplies
craft supplies
hobby supplies
home decor items
Closet Clean Out
brooms/mops
cleaning products
scrubbers/brushes
sponges/rags
dusters
buckets
rubber gloves
laundry & ironing supplies
Declutter the Garage
Tools
lawn care supplies
pest control items
Declutter Other items
storage containers
light bulbs
filters
batteries
holiday decorations
random jars
shopping bags
Relax in Your Clutter Free Home
Once you get all of the clutter out of your home, do some simple things to make it feel even more relaxing and beautiful!
First, I do a through cleaning. These house cleaning tips will help you get your home sparkly clean!
Then, I love to diffuse essential oils and you can try this super easy mason jar diy to have colorful fresh flowers that are sure to brighten things!
And some simple fall decor will transition your home into the autumn season.
What are your favorite ways to cut the clutter in your home? Share in the comments below!
Happy Decluttering!
BEFORE YOU LEAVE….will you do me a BIG favor? If you liked this and thought it was helpful, would you share to Pinterest or Facebook? It lets the search engines know that I provide quality content and helps keep my website alive. Thank you so much!!
More Articles from Handling Home Life You Will Love: