Cleaning our homes is one of those never ending chores, and if you have young children, you definitely know what I mean! While keeping our homes clean is important for many reasons, we should be able to do so without negatively impacting our health and the health of our family. Non toxic cleaning doesn't have to be difficult or costly.
Short on time? Pin now and you can read about DIY Natural Cleaners later!
I've always been super sensitive to the smell of cleaning products and get a migraine just walking down the laundry detergent aisle at Target.
But it wasn't just the smells that would make me ill. I would break out in an itchy rash if I washed my clothes with scented detergent and my hands had terrible eczema if I ever quickly cleaned a mess without gloves.
I switched all of my cleaning products to those labeled "natural" or "green" which was quite expensive! So you can imagine my frustration when cleaning my house STILL gave me a migraine, rashes, and asthma attacks!
When I was pregnant with the twins, I decided to do some research on my new "natural" cleaning products and was pretty disappointed to learn that many products labeled as "green", "natural", and even "organic" emit just as many hazardous chemicals as the standard products.
Well that just wasn't gonna fly! No way would I be exposing vulnerable new humans to these dangerous chemicals!
Obviously, we can't boycott house cleaning, especially the kitchen and bathrooms where really scary germs live. But there are many effective chemical free cleaning products you can mix up yourself (with things you probably already have) that are much healthier alternatives for home cleaning.
You can always check the safety of products or ingredients you are using at the EWG website. EWG stands for Environmental Working Group which is a non profit organization dedicated to protecting our health and the environment.
Here are some of the best non toxic cleaning products that you can make yourself!
NO TIME TO READ NOW? NO PROBLEM! SAVE TO PINTEREST AND READ LATER, AND I'D LOVE FOR YOU TO FOLLOW ME ON PINTEREST FOR LOTS MORE IDEAS TO HANDLE YOUR HOME.
RELATED POST: How to Quickly Clear the Clutter from Your Entire Home
---
This post may contain affiliate links meaning that I may earn a small percentage (at no extra cost to you) if you make a purchase through a link that I share. See full disclosure.
---
Non Toxic Cleaning Ingredients
Many of these items non toxic cleaning supplies you probably already have on hand. If not, they are inexpensive, easy to find, and last a long time.
Bonus Tip: Dr. Bronner's Castile soap can be used for everything! I keep this cheat sheet handy to reference dilution recommendations for the many different uses.
Using non toxic cleaning products means that it's safe for kids to use.
And it's never too early to teach kids to be responsible for some of the household chores!
Easy Homemade Cleaning Products Recipes
Homemade All Purpose Cleaner
You only need 3 simple ingredients for a safe and effective all purpose cleaner!
Pour all ingredients into a spray bottle and get to cleaning!
NOTE: Do not use on granite or marble. The acidity of the vinegar will eat away at the surface.
RELATED: 9 Ways to Boost Kids Immune System
Non Toxic Glass Cleaner
Cleaning windows is sometimes a daily job at our house with all the grimy fingerprints little boys leave behind. I certainly needed something natural and non toxic to keep the kids safe and also because they love to help clean windows!
This homemade glass cleaner not only gets the dirtiest windows sparkly clean, it's safe for the kids to use. We use microfiber cloths for a streak free clean!
Pour all of the ingredients into a spray bottle and give it a gentle shake.
RELATED: HOW TO CLEAN HOUSE FAST FOR LAST MINUTE GUESTS
Cleaning Cookware
Cleaning pots and pans is never fun, but you don't need harsh chemicals to get the job done. (did I just make a rhyme?:-)
You only need 3 ingredients to have your cookware looking shiny clean!
Mix the ingredients in a bowl to make a paste. Spread the paste mixture over the pots or pans and leave it for several minutes. I use a magic eraser to work the cleaner into the pan until it's all clean.
Hydrogen peroxide is also quite effective for disinfecting and for removing stains. I keep a spray bottle of peroxide to use on cutting boards and counter tops.
To clean copper dishes or cookware, I use two simple things:
I slice the lemon in half and use it to scrub the salt into the copper. Leaves copper clean and looking like new!
RELATED: Laundry Tips for Busy Moms: One Day a Week Laundry Routine
Cleaning the Toilet and Bathroom
With a house full of boys who seem to have poor aim, this is my most dreaded chore! Here's a super simple way to clean your toilet without the toxic fumes.
Homemade bathroom Cleaner
Pour all of the ingredients into a squirt bottle and shake it.  You can re purpose an empty bottle or find one here.  When ready to clean, just shake the bottle and squirt the cleaner around the inside of the toilet bowl.  I let it sit for a few minutes before scrubbing with a brush.
Have you heard?
Have you heard of this life changing toilet paper? It's made of 100% bamboo instead of trees making it the most sustainable, eco-friendly toilet paper you can find!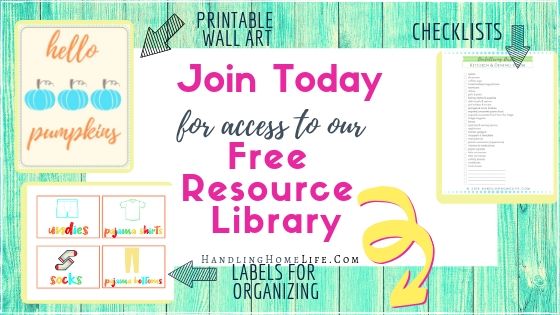 Want Non-Toxic Cleaning to be Even Easier?
Non-Toxic cleaning is extremely important to me, but so is convenience. I like to make life easier whenever I can! Instead of dragging out all of the ingredients to mix up cleaners, This All Purpose Cleaner has simplified my cleaning routines.
I use it to clean:
floors
windows
dishes
sippy cups and parts
showers
toilets
make up brushes
carpet/rugs
laundry stains
kitty litter box
liquid vitamin dosing syringes (Beckem goes through a lot of these)
toothbrushes
sinks
countertops
stove top
dusting/cleaning furniture
smelly shoes
RELATED: How to Save Money: Things I Quit Buying to Save Over $10K
$30 Off Force of Nature Natural Cleaner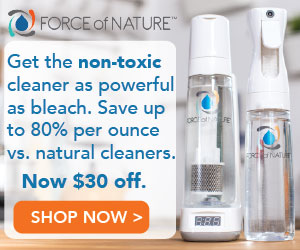 If you decide to give any of these cleaning solutions a try, I'd love to hear about it in the comments!
BEFORE YOU LEAVE….will you do me a BIG favor?
If you liked this and thought it was helpful, would you share to Pinterest or Facebook? It lets the search engines know that I provide quality content and helps keep my website alive.
Thank you SO much!!
All content here should be considered as opinion only. Always seek the advice of your own health professional for any questions or concerns you may have regarding your health or the health of others See full disclosure