Why Does Your House STILL Feel Cluttered After You've Decluttered?!
---
This post may contain affiliate links meaning that I may earn a small percentage (at no extra cost to you) if you make a purchase through a link that I share. As an Amazon Associate I earn from qualifying purchases. See full disclosure.
---
You've followed the decluttering tips in the 30 Day Challenges, read Joshua Becker's book, The More of Less, and KonMari'd your entire house…
But the joy still isn't sparked.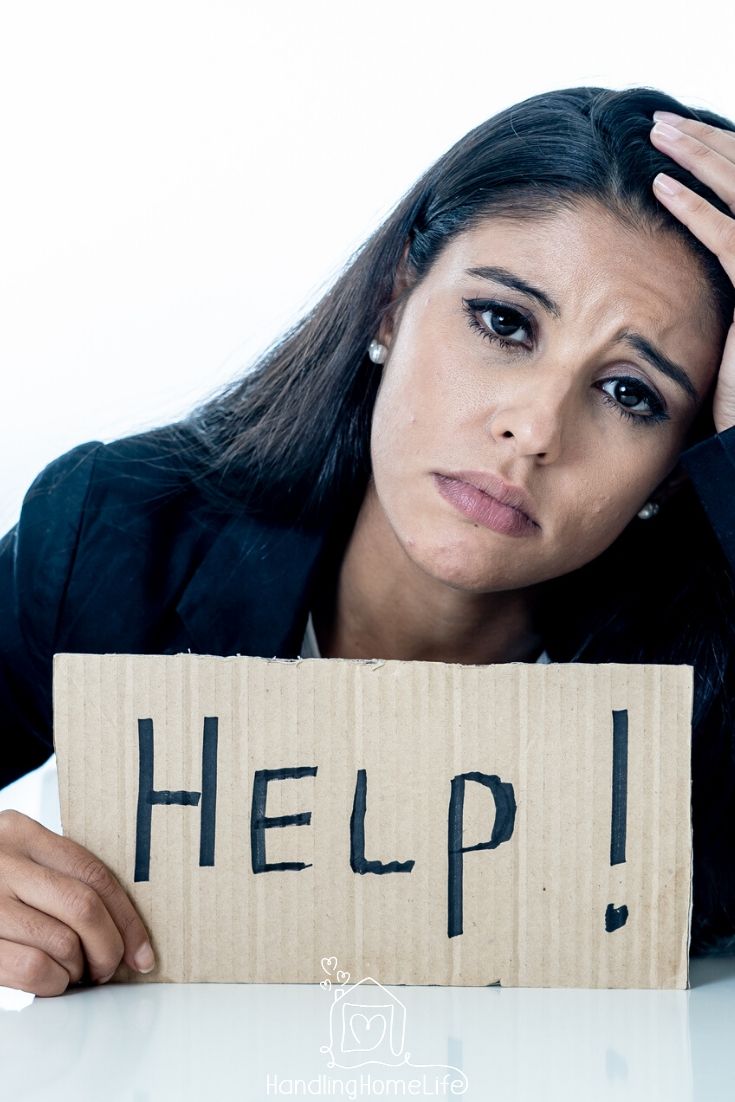 You've followed all the decluttering tips checklists and donated all of your duplicate and extra items. You've purged your book collection and your closets.
How disheartening to look around your home and still see clutter.
Sometimes we get so hung up on following the checklists when purging that we forget to look at our unique surroundings to assess what is disrupting the clutter-free-flow.
We have overlooked these things for so long that it has become "Comfortable Clutter"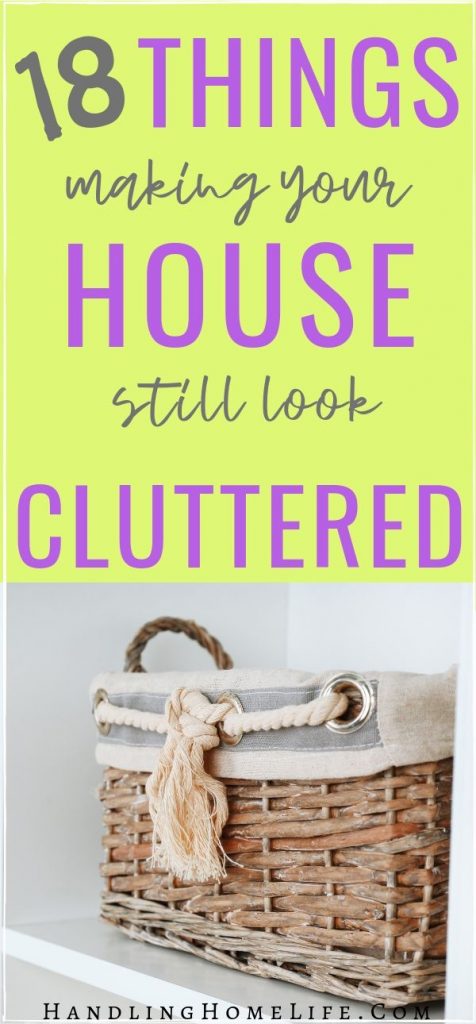 SHORT ON TIME? SAVE TO PINTEREST NOW TO READ ABOUT 18 THINGS MAKING YOUR HOUSE LOOK CLUTTERED LATER!
How Can I Make My House Look Less Cluttered?
There are many areas of the home that we often overlook when we are clearing the clutter. These problem areas can really throw off the balance and vibe we want to create.
Let's examine the often overlooked areas of clutter that are disrupting the peace in our home…
1. Not enough light
We often overlook the importance of good lighting in our home. Dark corners and shadows can make a room feel gloomy and cluttered.
Natural lighting is the ideal way to brighten things up. But, if you don't have lots of sunlight available, you can get the feel with table lamps, floor lamps, and pendant lights.
The brighter the better!
2. Decluttering Tips—Too much stuff
You've decluttered but you still feel like you have too much stuff!
If you're still feeling overwhelmed, take an honest look. Did you really declutter? Or did you hang onto things you thought you might need one day. Maybe you couldn't part with things you intend to sell one day.
Even worse, you packed crates and boxes with all of your "clutter" for the garage sale you will have some day.
See what you can remove from the house today. Immediately take things you can donate to your car.
If you really want to sell some of your things, make sure it will be worth your time and effort. Many times the tax deduction received from the charitable donation is much more beneficial.
3. Decluttering Tips for Too many knick-knacks
Random small objects often sabotage our decluttering efforts. These little items are usually attached to a happy memory and have great sentimental value.
So how do we enjoy our beloved knick knacks without junking up our shelves?
Rotate
First, consider a 'knick-knack rotation'. Then you don't have everything out at once, but you still get to enjoy your entire collection.
(I do the same with the kids' books. A book rotation each month keeps them interested in all of their books without being overwhelmed.)
Groupings
Sort your knick knacks with purpose and display the like items together. Then you won't have things randomly scattered throughout the home which can look cluttered.
TIP: Sort by color, shape, or by size
Box it up
If you have lots of tiny little objects, prevent clutter by placing them in an interesting box with a glass lid or in a pretty jar.
4. Refrigerator door clutter
Our refrigerator doors can quickly become a collection of kid's artwork, photos, invitations, announcements, appointment reminders, take out menus, and so on.
Consider clearing the clutter off of the fridge doors and organizing all of the info onto a family command center. You don't have to leave the refrigerator doors completely bare….display a cute framed magnetic family photo and maybe a couple souvenir magnets.
5. Paper Decluttering Tips
Paper is one of the most difficult things to declutter and manage in our homes because…
It keeps coming back!!
Use your family command center to organize all of the important paper and check out this post for all of the paper clutter solutions you could need!
6. Too many toys
Toys in every room of your house will quickly make things look cluttered. Getting the playroom organized and teaching kids to put each activity away before getting another out will help with the toy clutter.
7. Piles of clutter
Just because we straighten and pile up a stack of books doesn't mean it's not clutter. Immediately return items to their home and avoid the stacks and piles.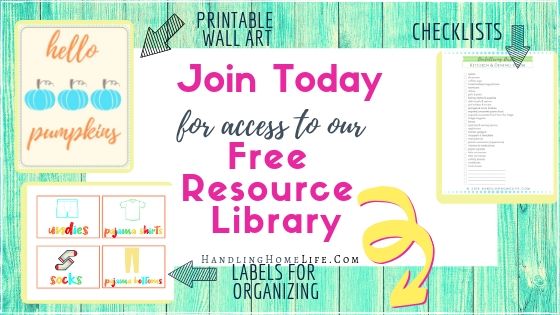 8. decluttering tips for Cord Chaos
Nothing clutters up a space worse than cords all tangled about. Cords and cables for electronics, phones, lamps, appliances, and such can create a jumbled eyesore.
Take the time to corral the cords and neatly conceal them using cable clips or cord twist ties.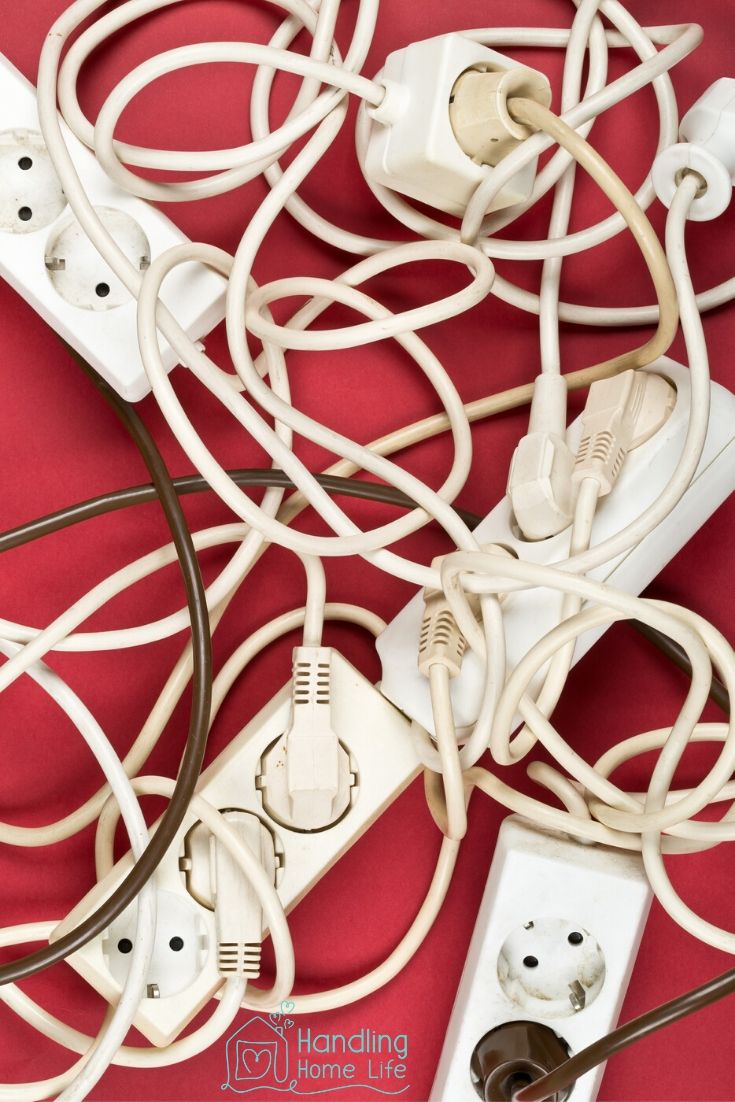 9. Mismatched storage decluttering tips
I love to use various baskets made of natural materials around the house for storage. I can't resist an interesting looking basket from a thrift store, and I've collected quite a few over the years.
Taking a look around my house, I realized how many different colors my baskets were.
It really made things look cluttered!
I decided to give the baskets a quick and easy makeover. I used a whitish/gray paint and mixed in a bit of water to make the paint thinner. Then I just dipped my paint brush and quickly painted the baskets.
It leaves a very thin layer of paint with hints of the original color still there. They dry very quickly and look so much more cohesive being similar colors.
Some of my favorite basket materials are rattan, wicker, water hyacinth, and seagrass. I might be a little bit obsessed with baskets!
10. Too Many Throw Pillows
Too much fluff can really overwhelm a room. Take inventory of your sofa pillows and decide on a select few to keep.
11. decluttering tips for Over-furnished rooms
Wall to wall furniture can make a room feel cramped and cluttered. You want functional pieces of furniture that fit the space.
Maybe try just rearranging your furniture first— but if you still feel crowded then remove a piece or two.
12. Dull Door Mat
If your welcome mats have seen better days, then it's time for an upgrade! Trade out the dingy door rug and instantly brighten the entry.
13. Roaming remotes
Your remotes will look neat and organized in a cute little basket or box. In addition, you will always know where to find a remote when you need it!
14. Too many pictures
Displaying countless family pics can lead to a cluttered look.
Instead, create a family photo wall showcasing your very favorite prints. You can find inspiration here.
15. Decluttering Tips for Tattered Pet Items
Is it time to upgrade your pet's bedding or food bowls? You can make things look tidy and coordinated with a comfy pet bed that matches your decor. Your furry friend will thank you and you'll love how clutter free things will look.
If you are still crating a puppy during the night, you can get a little crate cover to improve the look.
16. Ugly bottles
Shampoo, conditioner, body wash, hand soap…all of the different bottles can make your bathroom look cluttered.
Purchase matching dispensers to transfer your toiletries to. It's a little decluttering tip that makes a big impact.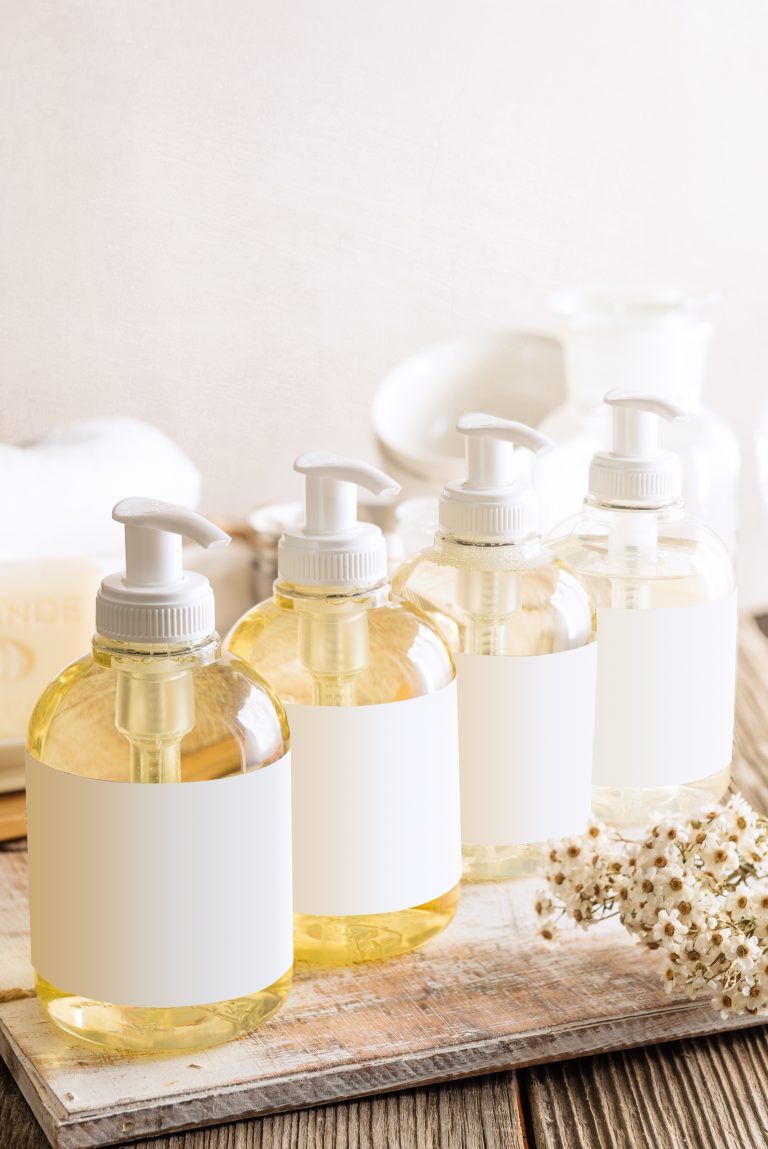 17. decluttering tips for Over stuffed shelves
You don't have to style your shelves like an interior designer, but make sure you aren't cramming too many things onto shelves. Stacks and piles will look messy and cluttered.
18. Decluttering Tips for Bath linens
If you have a random assortment of bath towels then it might be time for a refresh. Retire the thin, worn towels and opt for higher quality bath linens. Choosing the same color or color scheme for all of your bath towels, wash cloths, rugs, etc., will look cohesive and much less cluttered.
I've created a workbook to help you manage your time!
The printable worksheets for time management will take you through—step by step—and help you create a daily schedule that will keep you organized and productive! Managing your family will go from struggling to thriving!
BEFORE YOU LEAVE….will you do me a BIG favor? If you liked this and thought it was helpful, would you share to Pinterest or Facebook? It lets the search engines know that I provide quality content and helps keep my website alive. Thank you so much!!
What inspirational decluttering tips would you add? I'd love for you to share in the comments!
More Home Decluttering Articles You will Love: