Having a new baby can be such a thrilling time of life but can also be quite overwhelming–especially when it comes to how to organize baby clothes. If you need simple ways to organize and store baby clothes, then you are in the right place!
As a new parent, you will definitely want to use these easy tips to organize your baby clothing and baby's room BEFORE the baby girl or baby boy (or both!) arrive.
When your baby gets here, you will likely be overwhelmed with diaper changing, late night feedings, birth announcements, and lack of sleep. You won't have much time to think about baby clothes organization ideas after the little bundle is here.
---
This post may contain affiliate links meaning that I may earn a small percentage (at no extra cost to you) if you make a purchase through a link that I share.  As an Amazon Associate I earn from qualifying purchases. See full disclosure.
---
---
Short on time? SAVE TO PINTEREST NOW to read about how to organize baby clothes later.
Best Way to Get Baby Stuff Organized?
Having an organization system in place is one of the best ways to organize baby clothes and all the baby things. This will reduce a lot of stress and save precious time that you can spend snuggling your new baby.
Here you will find organization tips and storage options to organize all the tiny baby clothes. No matter what your storage space is like, a new mom will find great options and the easiest ways to sort and organize all the baby stuff.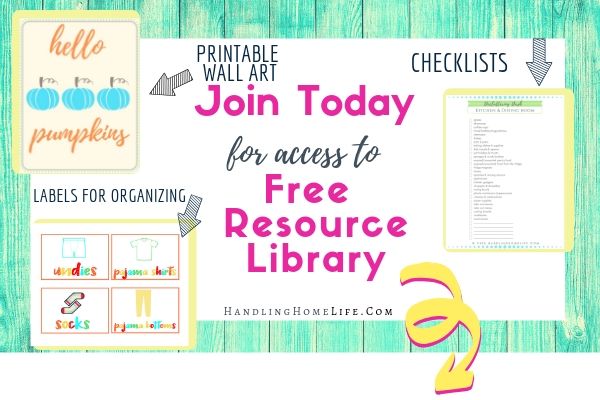 Organize Baby Clothes by Size
The first step for how to organize baby clothes and tiny items is to sort them by size.
Make sure that different sizes are grouped together. This makes it easy to grab what you need quickly.
For hanging baby clothes in the closet, you can easily find closet dividers. These dividers usually have size labels for 0-3 months, 3-6 months, 6-9 months and so forth.
Using size dividers in your baby closet keeps your baby's clothing and cute outfits organized in your hanging space.
You obviously want to keep the current size in the front of your closet space with the next size right after. Then the clothes are ready for baby's growth spurt.
One of the best hacks for how to organize baby clothes is to keep a separate section for all the tiny clothes you will need for the newborn stage.
There are different options you can consider depending on how much space you have available. For instance, one storage solution is to use plastic bins on nursery closet shelves to hold newborn clothes.
How to organize baby clothes in dresser drawers
Much of the baby clothing can be organized in the nursery dresser. You can fold baby clothes and use drawer organizers to keep all those small items together.
Using the top drawer of baby's dresser for newborn items is a great way for keeping all those baby shower outfits handy to use.
Utilize drawer dividers to keep a lot of baby stuff organized in a small space.
Use the dividers to keep similar items grouped together such as onesies, socks, burp clothes, baby shoes, or hair bows. The bottom drawers are ideal to hold larger items such as diapers and baby wipes.
Organize Baby Items with Storage Bins
When your new baby has way too much stuff, your best bet is to utilize plastic storage bins. This will save lots of space and keep everything neat and tidy.
Using clear bins allows you to quickly see what's stored inside. This is helpful especially if you have a lot of clothing. I still use storage bins to store my kids clothes even after the baby stage.
The bins can be used to store clothes that are too big, out of season clothing, or to keep what your baby outgrows. Then, you can tuck those outgrown things away for the next baby.
Be sure to label each bin of baby's clothes with the size and season of what's inside. You can make your own custom labels or grab some from the dollar store and use a permanent marker.
The good news is that the closet organizer police won't be enforcing how to organize baby clothes, so you do whatever is easiest.
What to do with Clothes Baby has Out-Grown
Be sure to save a spot in the baby closet to keep a basket or bin to hold all the clothes baby outgrows.
Toss the outgrown clothing into the bin to save. Later, go through the bin and separate the clothes based on keepsake items, clothes to save for the next baby, or baby items you want to donate or pass on to friends or family members.
You also may want to sell or consign some of your baby clothing so it's a good idea to sort those out and get them ready to list.
When you sort through baby's clothes, you will find that many are sentimental items that you want to save.
Always store baby's sentimental, keep-sake items separately. You can keep those memories safely tucked away in plastic storage bins, or maybe in a special memory box.
Just be sure to label the container with the contents so you will quickly know what's inside.
And this birthday banner is the ideal way to utilize some of those special keep-sake baby items. What a wonderful way to make a unique and meaningful banner. You can use the special banner for baby's first birthday and year after year.
How to Organize the Changing Table
When deciding on how to organize baby clothes, you will want to utilize your nursery furniture such as the changing table.
You can use storage baskets to organize wipes, diapers, burp cloths, nail clippers, rash cream, and all the baby items you will need.
Be sure to label the baskets at the changing table to quickly find what things. You don't want to be distracted trying to locate the baby wipes when you have a wiggly baby on the changing table.
Next to the changing table is the perfect place to keep a laundry hamper for dirty baby clothes. Between spit-ups and diaper blow-outs, your baby will likely go through a lot of clothes!
A laundry basket or a hamper can hold all the soiled clothing until you can toss them in the washer on laundry day.
Be sure you read my article about making the chore of laundry easier-–you'll never do laundry any other way!
How to Organize Baby Clothes and Accessories
A hanging organizer on the back of the closet door is an excellent solution to keep baby items organized and contained.
This is the perfect place to store and organize hair accessories and serves as an ideal baby shoe organizer.
A hanging organizer is also a great place for baby clothes like onesies, sleepers, gowns, and socks. Label each section of the hanging organizer to help you find what baby needs quickly.
Have you ever wondered how to organize baby outfits and the accessories all together? You can use small hangers with clips that attach to the hanger.
Hang the clothes on baby hangers and use the clips to attach a pair of shoes, hair bow, hat, or whatever small items complete the outfit.
This makes it simple and easy to get your baby dressed quickly. No more wasting time searching the baby closet for the matching pieces to complete the outfit.
Minimalist Baby with a Rolling Cart
Another great way to organize your baby supplies is with a rolling cart. Keeping your most used baby items on a small cart will make life as a new mom so much easier!
You can use small baskets on the cart to hold burp clothes, diapers, onesies, sleepers, and bibs. This is also a handy place to keep feeding supplies for baby.
Keeping a cart stocked with baby supplies makes it easy to roll the cart to the living room or bedroom so you always have what you need in every room of your home.
Baby Clothes Organized
Trying to figure out how to organize baby clothes can feel like an overwhelming project, but you will be so thankful that you took the time to do it.
What are your favorite baby clothes organizing tips? I'd love for you to share in the comments!
Take a peek at some other Handling Home Life articles I think you'll love❤!