We recently moved my oldest son into his own place. This is the first time he has lived all on his own and he needed everything from furniture to towels to cleaning tools and supplies.
He doesn't have kids, but does have my sweet grand-puppy, Sadie. She's a beautiful yellow lab and sheds like crazy!
So as we were getting his little household set-up, I wanted to make sure he had the most efficient cleaning tools that wouldn't take up too much storage space in his tiny apartment.
Short on time? Save to Pinterest now and you can read about cleaning tools for your home later!
---
This post may contain affiliate links meaning that I may earn a small percentage (at no extra cost to you) if you make a purchase through a link that I share. See full disclosure.
---
What cleaning tools do I need for my household?
There are some basic essential cleaning tools every home must have.
If you have a house full of kids and pets, you will want to have more than the basic cleaning tools and products in order to make your cleaning chores easier and faster.
But if you are just setting up your home, you will want to make sure you have these basic, essential, cleaning tools and supplies:
All Purpose Cleaner
Every home needs a good all-purpose cleaner that works hard without harmful chemicals.
I use Force of Nature cleaner in my home and it is, hands-down, the BEST cleaner I've ever used.
It's the first time I've been able to have a powerful cleaner that doesn't bother my allergies or asthma! It's non-toxic and completely safe to use around the children and pets.
100% Plant derived, Better Life Natural All Purpose Cleaner can be used on any water safe surface. Solar energy and recyclable materials are used to package Better Life products. It's perfectly safe to use around children and pets too.
CLICK HERE TO READ: Why Your House Still Doesn't Look Clean
Sometimes the clean up job calls for the convenience of a wipe. These Sun & Earth all purpose wipes are plant based and non toxic. You can clean the messes without worry!
Microfiber cloths are non-abrasive so they can be used on all surfaces. They are super absorbent and won't leave lint or streaks behind. Microfiber cloths pair perfectly with a non-toxic all purpose cleaner or with plain water.
Microfiber cloths can be used to clean the kitchen, bathrooms, shower, sinks, counter tops…everything!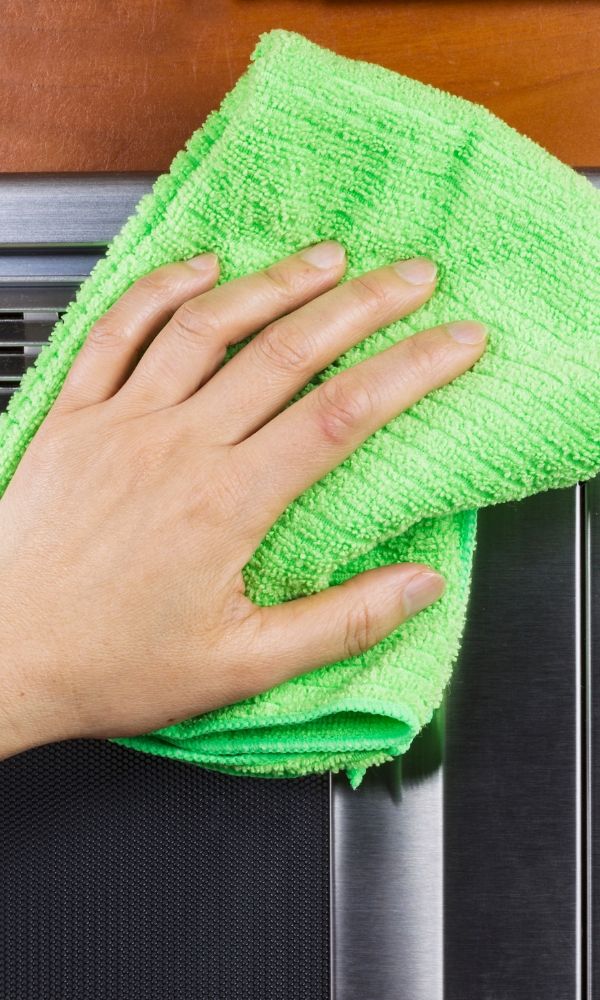 Must Have Cleaning Tools for Stubborn Messes
There will be times when you will need a good scrub brush to tackle a mess. A simple hand held all-purpose scrub brush should do the trick and it can conveniently be cleaned in the dishwasher after use.
Even with a dishwasher, there are lots of dishes that require hand washing or scrubbing.
These machine washable scrub sponges are perfect for scrubbing dishes.
They are proven to remove over 99% of all bacteria using ONLY water (although I still use a bit of Natural Dish Soap).
CLICK HERE TO READ: How to Quickly Organize Kitchen Cabinets
What cleaning tools do I need for floors?
Every home needs some type of broom and dust pan. A vacuum or a dust mop will be able to handle most jobs, but some messes require a broom for clean up.
If your space is extremely limited, you could get by with a small handheld broom and dust pan.
Your hard floors will need a dust mop to quickly clean up dirt, dust, and pet hair.
Microfiber is the most efficient because all of the small debris sticks to it. And the microfiber cloth is removable and can be thrown in the wash and used again and again.
When your floor needs a deep clean, you can put the microfiber wet mop pad on. Then simply spray your all-purpose cleaner on the floor and clean with the mop.
If you have carpet, you will definitely need a vacuum cleaner.
My son's small apartment has only hard floors and since it's so tiny and no kiddos, he can get by with only a handheld vacuum. A handheld vac that can also clean wet spills is efficient and convenient with a very affordable price tag.
Ideally, a 2 in 1 cordless stick vacuum cleaner that is also a handheld vac will thoroughly clean all your floors.
This one weighs 3 pounds and will clean carpets, hard floors, curtains, furniture, walls, ceilings, and your car interior.
What cleaning tools do I need to keep my house dust free?
If you have a vacuum cleaner with attachments, then you can use that to dust ceiling fans, shelves, walls, etc. But if you have a large house or if you don't have attachments, you will need a good way to collect dust from surfaces.
With a flexible dusting wand you can clean all of those out-of-reach places. Choosing a dusting wand with a removable, washable cloth versus disposables is a more eco-friendly choice.
A dusting mitt is handy for cleaning small items and I keep one in my car too!
What are your must-have cleaning tools? Be sure to comment below!
BEFORE YOU LEAVE….will you do me a BIG favor?
If you liked this and thought it was helpful, would you share to Pinterest or Facebook? It lets the search engines know that I provide quality content and helps keep my website alive.
Thank you SO much!!
If you need help with keeping your daily commitments organized then you need the Simple Schedule Planner:
The printable planner worksheets will take you through—step by step—and help you create a daily schedule that will keep you organized and productive!
Managing your family will go from struggling to thriving!
I'll help you simplify the daily chaos of being a busy mom and wife. You will no longer stress over what's for dinner—no more missed appointments or birthdays.
The planner pages will manage your:
Family Meal Planning
Yearly events and activities
Months
Weekly routines
Daily committments
The best part?
There are no unnecessary pages!
Many planners I've tried in the past had page after page of needless waste. I would get so sidetracked with the pointless planning and STILL wouldn't have a daily plan for my family responsibilities.
The Simple Schedule Planner will keep you focused on what's most important and save you tons of time.
Time you can spend doing the things that matter the most.