Simple Fall Decorating Ideas
Fall is my favorite time of year!
I love getting out my favorite hoodies and flannel shirts for the cooler weather. But with the start of school and all that entails….fall is also a busy time of year.
I always have way too much going on during the fall season to do elaborate decorating, so I need quick and easy fall decorating ideas.
These are some of my favorite fall decorating ideas to easily add the feeling of fall to your home.
---
This post may contain affiliate links meaning that I may earn a small percentage (at no extra cost to you) if you make a purchase through a link that I share. See full disclosure.
---
Short on time? Share to Pinterest now and you can read about Fall Decorating Ideas later!
When Should You Put Out Fall Decorations?
You want to have plenty of time to enjoy your fall decor before it's time to decorate for the Christmas holidays.
Some people bust out the fall decor at the end of August. I've never been able to decorate that early with the hectic back to school activities.
September is a popular month for bringing out the fall decorations. However, we live in Texas, and it just doesn't feel like fall in September. The weather is usually still in the 90s so I can't get very motivated to decorate for fall.
Bringing out the fall decorating ideas in October still gives you almost two months to enjoy before transitioning to Christmas decor. This is usually when I get my home ready for fall.
How do I Make My House Cozy for Fall?
Fall Decorating Ideas with Lights
There are so many ways to make your home cozier by decorating with lights.  The folks at Shelterness.com have great ideas to use lights when decorating for fall. 
Flameless LED candles look just like the real thing and are a must have for any occasion! The timer feature is so handy…..you can choose the time you want the candles to come on each day and for how long.
The best part:
You can control all of the candles with one remote.
Traditional candles are a significant fire hazard making these flameless candles a necessary alternative….especially if you have curious children or nosy pets.
Another advantage of using flameless candles is that you and your family won't be breathing in the toxic chemicals that traditional scented candles emit.
Win-win!
Essential oils
are the easiest way to get the smell of fall in your house.
Just put a few drops of cinnamon or nutmeg oil in your diffuser and your house will smell like you are simmering spices on the stove top!

How do You Decorate for Fall When on a Budget?
So how do you decorate for the seasons without breaking the bank?
I had to be pretty creative when our family was living on only one income. Here are some inexpensive fall decorating ideas you will love!
Farmhouse Frame with Clips
Probably my favorite fall decorating idea is a cute farmhouse frame with clips!
This frame hangs on the wall. But, if you'd rather display it on a table or counter, the frame looks darling sitting on a little wooden easel!
You can use this frame year-round making it a budget friendly decorating item.
You can simply change out the printable sign to match your mood or the season!
I love to display motivational quotes and scripture, and this makes it simple to do that.
This adorable frame would also look great hanging outside on your patio or porch.
Farmhouse Metal Tray
This rustic metal tray is a perfect fall decorating idea and is so versatile when decorating for any season!
I'm such a practical person so I get excited when a decorative item can be used for more than just one holiday. With just a few little changes, this tray can be used to decorate year round!
This makes it a frugal decor find for sure!
You can fill the tray with pine cones,for a beautiful fall table centerpiece.
Add some flameless candles surrounded by berry twigs for simple and elegant fall table decor.
This also looks so cute on the kitchen counter or a table holding decorative bottles surrounded by miniature pumpkins.
You may be able to find interesting decorative glass bottles at thrift stores for super cheap.
Or if you enjoy DIY, you can make a cute fall banner that you can display year after year.
Outdoor Fall Decorating Ideas
There are countless ways you can decorate for fall outdoors. A rustic tin planter will spice up your porch or patio.
Leave it empty or use it to display dried corn stalks or fall mums.
A farmhouse wagon planter is a practical decorating piece for the front porch or patio.

Fill the wagon with pillows, fall foliage or with gorgeous velvet pumpkins.
Fall decorating wouldn't be complete without flowers. Fall flowers
are such an easy way to bring beauty and joy to every room of your home.
You can make adorable little flower arrangements in mason jars and display wherever you need a pop of color this fall!


Fall Mug
Oh my goodness, this cup just makes me smile! Your pumpkin spice latte will taste even better from this cute little mug. These make great little gifts too!
Be sure to sign up below for your FREE fall decor sign printables!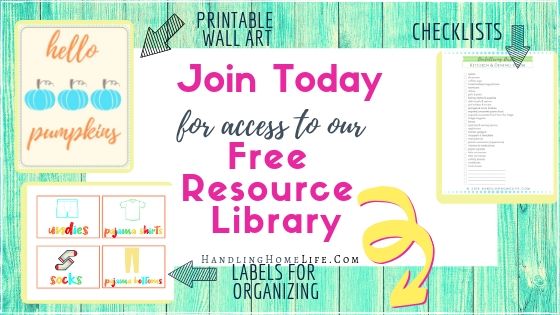 For more inspiration to make your home cozy, decluttered, organized, and clean:
BEFORE YOU LEAVE….will you do me a BIG favor?
If you liked this and thought it was helpful, would you share to Pinterest or Facebook? It lets the search engines know that I provide quality content and helps keep my website alive.
Thank you SO much!!