How great would life be if you knew how to organize kids toys and keep them that way?
Kids toys have a way of taking over. By the first birthday, your home may be in toy chaos.
And if you have multiple children, your house may may not even be recognizable as your own!
But you can reclaim your home! Without getting rid of all the toys.
There are lots of ways to declutter and organize your kids toys so your living space is livable by everyone.
How do I organize my child's toys?
The very first thing you must do is to clear out the toy clutter and minimize.
Get rid of the toys that are broken, the toys your kids have outgrown, and the toys that are never played with.
I'm very picky about toys. I like quality toys that will provide many hours of play. If a toy will break easily or is overly complicated, it's not welcome in our home.
So being selective when choosing toys for your kids will help reduce the toy clutter on the front end.
#1 Declutter toys: Get rid of:
toys that are broken
toys that are no longer played with
toys that your child has outgrown
SHORT ON TIME? SAVE TO PINTEREST NOW TO READ ABOUT HOW TO ORGANIZE KIDS TOYS LATER!
---
As an Amazon Associate I earn from qualifying purchases. Please see full disclosure.
---
How can I organize toys without a playroom?
Having a designated room for all of the kids toys is great, but what if you don't have a playroom?
Don't worry…there are lots of ways to still keep the toys organized without a playroom.
#2 Organize toys in the kids' rooms
The kids' bedroom is a great place to organize all of the toys.
You can gain a ton of bedroom space by doing away with the big bulky dresser drawers. Organizing kids clothes on hangers makes it easier for little ones to choose what to wear.
I love the Ikea shelving units with slide out boxes for storing kids toys and games. They are the perfect storage solutions for all the Legos too.
There are so many of the cube organizer bins to choose from, so you are sure to be able to find something to match your home decor. These are ideal toy storage ideas for the living room.
#4 Baskets and bins
When the twins were babies and we lived in a much smaller house, I had to get creative and come up with toy storage ideas for our small space.
One way was to keep baskets and bins in just about every room to hold toys and books.
If I needed to prepare lunch, I could pull the basket out from under the dining room table and let them play where I could keep an eye on them.
It was super quick and easy to toss the toys back into the basket when finished playing. Then just close the top and it just looks like a cute little home decorative basket.
Cute baskets with lids are perfect for holding toys in the bedrooms, the family room, dining room…anywhere you need toy storage.
They are also ideal for holding kids' art supplies.
#5 Seating that doubles as storage
Functional seating is a clever way to hide the toy clutter in any room. This storage bench will hold oodles of kids toys.
#6 Coffee table or side tables
A cocktail table (if you're fancy) or a coffee table will keep the toys confined in your family room. A great way to enhance your home decor in a functional way!
And this side table with storage will look great in any room and makes a nifty toy organizer.
#7 Group like toys together
Another smart way to keep toys manageable is to organize toys by category.
Then, each grouping of toys can be kept inside a clear tub with a lid. This keeps toys organized and makes it easy for kiddos to access their toys. It also makes clean-up a breeze.
Some toys to group together:
farm animals
cars and trucks
play-dough sets
puzzles
trains
super heros
Mr. Potato Head and parts
dinosaurs
PRO TIP: Each time you purchase your kids a new toy with lots of pieces or a game, pick up a clear tub with a lid that will all of it will fit in.
#8 Organize toys with labels
Labels are a good way to keep kids toys organized.
Sometimes I use my label maker, and other times I write on a label with a marker.
If I'm feeling overly ambitious, I use my Cricut to make super cute labels.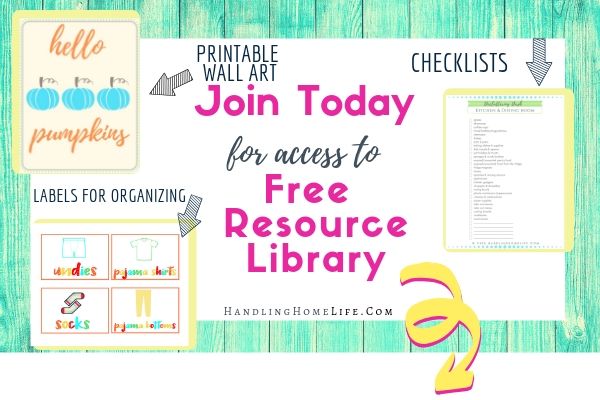 #9 Under bed toy storage
These underbed storage bags are a nifty way to organize toys, puzzles, dress up clothes…all the kid things.
#10 Organize kids toys in an extra closet
If you're lucky enough to have an extra closet in your home, it would be a great place to store toys.
Our house has several small random closets throughout. I love having the extra storage space! I use one of the closets to organize the kids' book rotation.
#11 Toy rotation
Rotating kids' toys is a clever solution to the toy overwhelm. I used to do a weekly toy rotation when the twins were younger.
If toys have overtaken your home, consider starting a toy rotation. Here is an article that will take you through the steps to organize a toy rotation (with a free printable).
#12 Organize kids toys with hooks
Hooks are a great idea for organizing toys. Dress up clothes and capes can be hung neatly on hooks making it easier for kids to access them.
Small baskets can hang from the hooks and hold small toys.
Or you can hang a fabric hamper to hold stuffed animals.
#13 How to organize stuffed animals
Too many stuffed animals can start to make things look really cluttered. Luckily there are lots of smart ways to keep the stuffed animals from being scattered all over the house.
The stuffed animal storage bean bags are a super practical way to keep the lovies contained and provide fun seating for your child.
Large rope baskets can provide a home for stuffed animals or they can chill in a toy hammock.
Related Organizing Articles:
What toy organizing tips do you have? Be sure to share in the comments below!
BEFORE YOU LEAVE….will you do me a BIG favor?
If you liked this and thought it was helpful, would you share to Pinterest or Facebook? It lets the search engines know that I provide quality content and helps keep my website alive.
Thank you SO much!!