Elderberry syrup for kids is a staple in our house, especially during cold and flu season! Elderberries are cram-packed with nutrients and research suggests that elderberries may have antiviral and anticancer properties as well as being an effective anti-inflammatory.
Short on time? Pin now and you can read about Elderberry syrup for kids later!
So what is an elderberry?
Sambucus nigra is the most common type and is also referred to as the European elderberry or black elderberry.
The elder tree is considered a small tree or an overgrown shrub and it grows teeny tiny berries that are a deep dark purple/blackish color.
---
This post may contain affiliate links meaning that I may earn a small percentage (at no extra cost to you) if you make a purchase through a link that I share. See full disclosure.
---
What are elderberries used for?
Elderberry syrup benefits are many. Black elderberry has been used throughout history as a medicine to treat many different ailments such as influenza, headaches, and infections.
Modern research shows that elderberry has the ability to inhibit the influenza virus. Elderberry was even found to be comparable to the prescription, Tamiflu.
In this study, elderberry was given to people within 48 hours of flu symptoms and their symptoms were relieved 4 days faster than the people who were given the placebo. They received 15 ml of elderberry (or placebo syrup) four times a day for 5 days.
Are Elderberries Safe?
Elderberries are very safe if prepared properly (which is super simple). The berries should be cooked which will destroy the icky stuff that can cause GI upset.
The leaves, stems seeds, and roots of the black elder are not safe and should never be included if making your own elderberry syrup.
Health benefits of Elderberry syrup for kids
There are numerous reported health benefits of elderberries, with relief of flu symptoms being the most well known. But elderberries are also packed with nutrients and antioxidants.
Elderberries are a great source of:
Vitamin C: an antioxidant and important for healthy immune function (among many other benefits)
Dietary fiber: many health benefits including maintaining bowel health & lowering cholesterol
Vitamin A: 1 cup of raw elderberries contains 870 IU of vitamin A
Vitamin B6: 1 cup elderberries provides 17% of the daily recommended amount of B6
Minerals: 1 cup fresh elderberries gives 13% of the daily recommended amount of iron and 12% potassium
Anthocyanins: very potent antioxidants and gives the fruit its dark purple color
RELATED: GMO Foods & Kids: The dangers & how to protect your family
Elderberry syrup for kids
I began giving store bought organic elderberry syrup to the twins when they were toddlers during cold and flu season.
With all of Beckem's complicated health problems surrounding his rare condition, KAT6A, I have to be diligent in protecting and strengthening his immune system.
To avoid Beckem's intolerance to various foods, I make most everything he consumes from scratch. But this elderberry syrup met my requirements for quality ingredients and was readily available locally.
The elderberry syrup I purchased at the stores was a bit expensive (about $15 per bottle) and one bottle would last less than 2 weeks if using it for both boys for daily maintenance.
When increasing the dosage of the organic elderberry syrup during sick symptoms, the bottle would only last 3 days for 2 kids!
It became quite expensive to treat the entire family!
But still, I thought that making elderberry syrup myself would be too complicated and I had no time to spare in my busy days. (I'm sure you can relate!)
And I didn't even know where to find elderberries!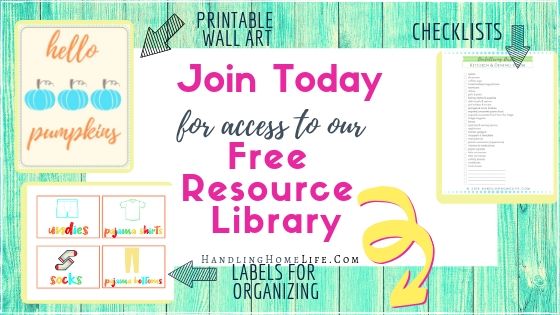 Why make elderberry syrup yourself?
To save money!!!
When the twins were 4 years old, the flu season was severe and it was one of the longest seasons of influenza in recent years.
Our community was hit hard and many schools had to close for days due to the high percentage of absences.
Elderberry syrup for flu was in high demand. The shelves at our local stores were empty and Amazon was out of stock.
This mama was in a complete panic.
I most definitely needed the twins to have the benefits of elderberry, and with the rampant number of flu patients in our community, our entire family needed to be taking it!
When the Flu Hits
Then it happened. Adler woke with a high fever and tested positive for the flu. He was prescribed Tamiflu which took all day to find a pharmacy with it in stock and it cost several hundred dollars WITH health insurance!
Our doctor wanted Beckem to also take Tamiflu prophylactically. We had so much trouble finding one round of Tamiflu during this flu epidemic and now we should find another and shell out 300 more dollars?!
But I was scared, especially with all of the flu related deaths that were occurring.
I gave both boys a dose of the prescription and started some fast research about homemade elderberrry syrup for kids.
I found the ingredients needed to make elderberry syrup and immediately ordered them from Amazon and I'm so thankful that I did because neither of the twins were able to take the prescription flu medication.
Adler had HORRIBLE behavioral side effects from the Tamiflu and Beckem vomited after his first dose so I didn't dare give him more.
Incredibly upsetting. Incredibly expensive.
RELATED READING: How to Make a Kid's Nighttime Sick Kit
DIY Elderberry Syrup
Let me just say that I wish I wouldn't have waited so long to DIY this! It's ridiculously easy to make your own elderberry syrup for kids and the entire family and way less expensive!
There are numerous recipes online for making your own elderberry extract syrup. I have tried several variations and have adjusted the ingredients to make a very effective elderberry syrup that tastes good too. (Very important for kids!)
---
Organic Elderberry Syrup
4 cups filtered water
1 cup raw honey
1/2 fresh lemon juice
Combine the water and elderberries in a medium saucepan
Let the berries soak 30-60 minutes until soft (optional)
Bring to a gradual boil over medium heat
Once rolling boil is reached, reduce heat and simmer (uncovered) for 45-60 minutes stirring frequently
Remove from heat and let cool enough to be handled
Gently mash the berries with a potato masher or the back of a wooden spoon
Pour through a fine mesh strainer into a glass bowl
Discard the elderberries and let the liquid cool to room temp
Add the honey and stir well
Squeeze in fresh lemon juice and stir
Pour into a glass jar of some type and store in the fridge
Ingredients you need to make Elderberry Syrup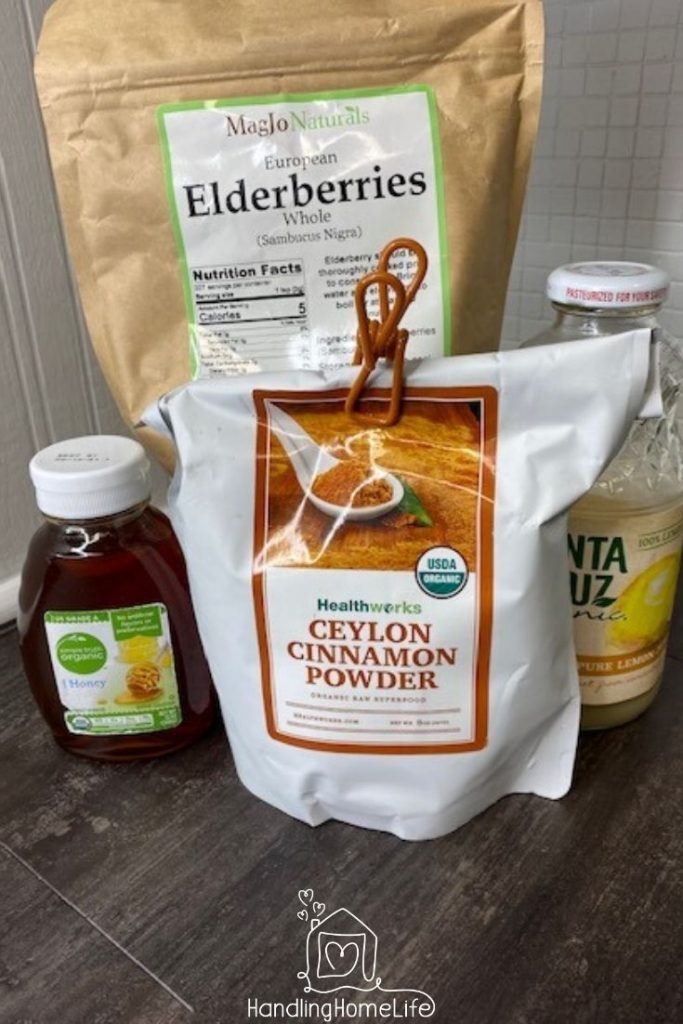 Combine the water, elderberries, and cinnamon in a saucepan and bring to a boil. Reduce heat and simmer (uncovered) for 45 minutes to 1 hour.
Remove from heat and let cool enough to be handled. Then gently mash the berries with a potato masher.
Pour through a fine mesh strainer into a glass bowl. I very gently mash the liquid from the berries. Then, discard the berries.
Now, let the elderberry liquid cool to room temperature. Add the honey and stir thoroughly.
Finally, pour the elderberry syrup into glass jars and add the lemon juice. If I don't have fresh lemons, I simply use organic lemon juice. Add a couple of teaspoons of the lemon juice to each 8 ounce jar.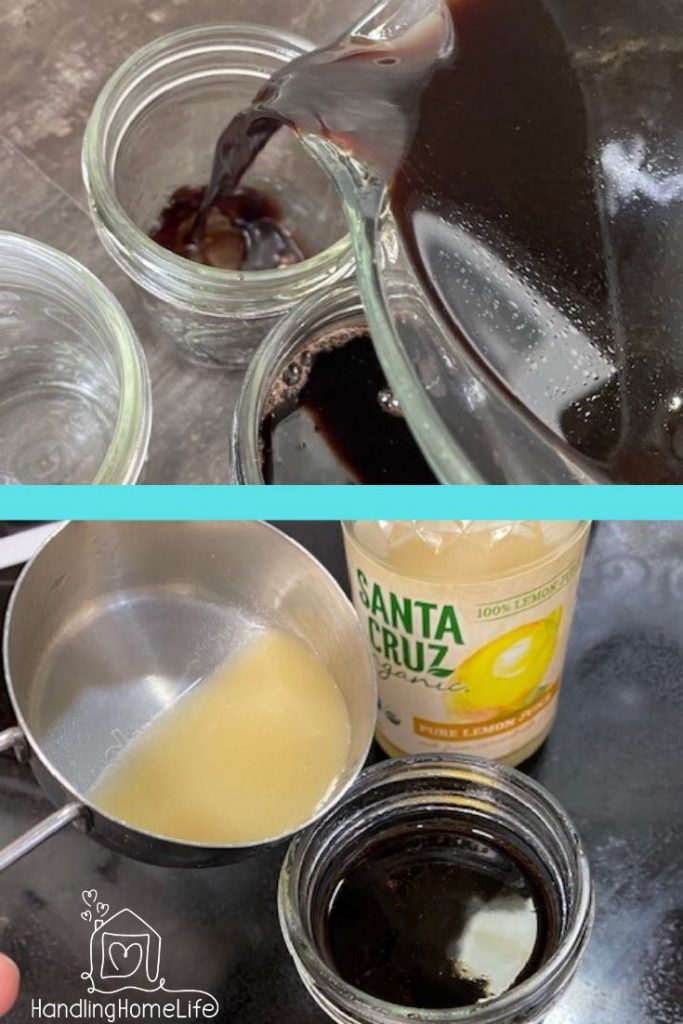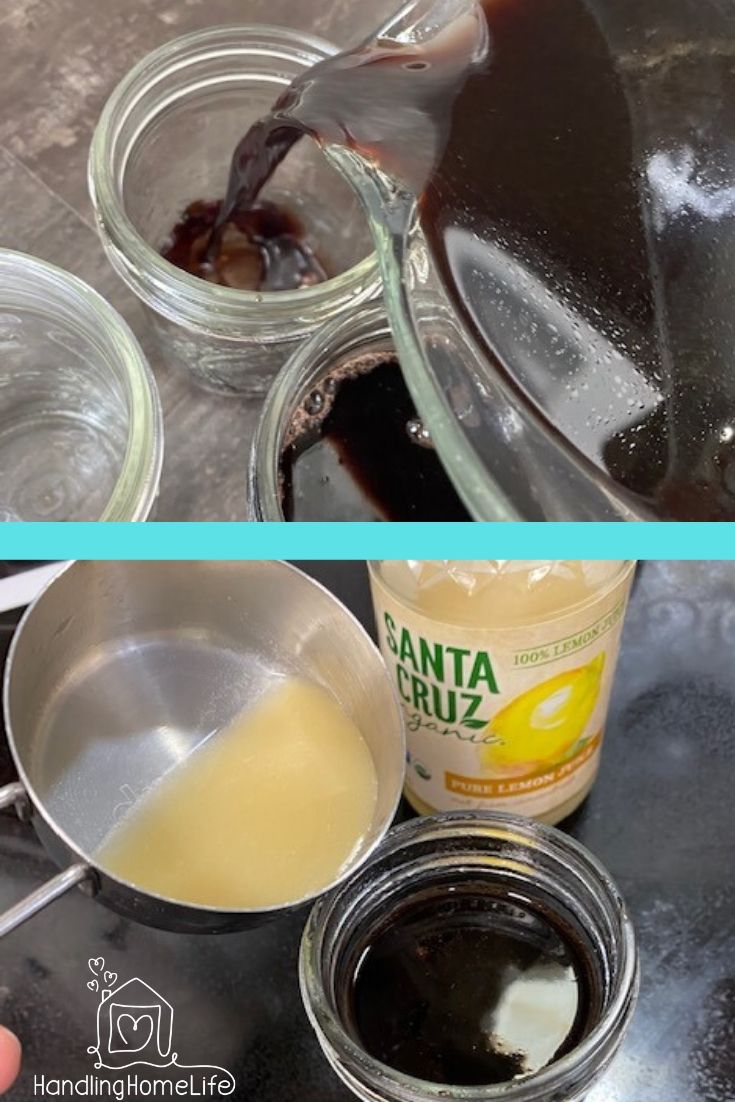 Homemade Elderberry Syrup shelf life
How long will elderberry syrup last in the fridge?
That's hard to say…it seems the common time frame most suggest is 2-3 weeks. I have found that the citric acid from the lemon juice makes ours last much longer than that.
You can also freeze the excess in ice cube trays and defrost as needed if you won't be using it quickly.
How Much Elderberry to Take?
The suggested dosing is different if taking it for prevention/maintenance versus taking elderberry when symptoms hit.
Typical dosing for maintenance:
Adults—1/2-1 tablespoon twice daily
Children—1/2-1 teaspoon twice daily
Typical dosing at the onset of symptoms:
Same amounts as above every 2-3 waking hours for 2-4 days
***As always, consult your medical professional for advice***
Personally, we don't take Elderberry syrup year round.
Beginning in September (or whenever I start to see the "get your flu shot" advertisements) I start a maintenance dose (twice daily) to get those little immune systems strong and ready! Then I continue that dosing throughout the sick season.
During the rest of the year, I only give elderberry syrup if someone has symptoms of illness.
For example, Adler woke with a fever this summer so I whipped up a batch of elderberry syrup and gave it to him every 2-3 hours. His fever was completely gone within 12 hours. I gave the maintenance dose to twin brother and he never got a fever or any symptoms of illness.
What natural things do you use to keep immune systems strong?
More Handling Health articles you will love:
BEFORE YOU LEAVE….will you do me a BIG favor?
If you liked this and thought it was helpful, would you share to Pinterest or Facebook? It lets the search engines know that I provide quality content and helps keep my website alive. Thank you so much!
All content here should be considered as opinion only. Always seek the advice of your own health professional for any questions or concerns you may have regarding your health or the health of others See full disclaimer.