My twin boys love yummy fruit and veggie smoothies, but I do NOT love taking them both to the grocery store for fresh produce. I had to figure out a more convenient way to gather the ingredients needed to make easy smoothies for kids without having a nervous breakdown in the middle of the spinach aisle.
—>PIN NOW, READ LATER! CLICK HERE TO SAVE THIS POST TO PINTEREST AND WHILE YOU'RE AT IT, LET'S BE FRIENDS! FOLLOW ME ON PINTEREST FOR MORE PARENTING AND HOME MANAGEMENT IDEAS.
---
This post may contain affiliate links meaning that I may earn a small percentage (at no extra cost to you) if you make a purchase through a link that I share. See full disclosure.
---
What equipment will I need to make easy smoothies for kids?
If you are new to making smoothies, you will need to have a good blender. I have bought MANY cheap blenders (like 40 bucks each) over the years and they typically would last about a year and then have to be replaced.
When the twins were babies, I had to make homemade formula for Beckem, so I decided to buy the best blender that I could afford. I didn't want to have a blender break in the middle of making his food.
After reading tons of blender reviews, I bought this Ninja Blender. I am happy to say that after 5 years, it is still going strong!
I'm not the best with math, but if I would have continued with my forty -dollar-a-year-cheapo-blender for the last 5 years, I would have spent twice as much as I did for the Ninja!
I've never regretted paying more for quality.
If my Ninja ever breaks, I'll buy the Nutri Ninja Personal Blender.

Convenient Healthy Ingredients for Kid Friendly Smoothies
Unfortunately, it's not always easy to feed our kids healthy foods.
Grocery stores are packed with foods that claim to be healthy and nutritious, but certainly are not. Moms have to become food detectives to ensure we are providing our kids with wholesome healthy foods that provide the best nutrition possible.
I'm all for giving my kids top-quality foods, but I need some convenience thrown in there too!
I can't be running off to the grocery store for fresh fruits and veggies every few days with my wild crazy kids!
I was always under the impression that fresh fruits and vegetables were the only way to receive the maximum amount of nutrients the food provides.
With all of Beckem's feeding intolerance problems as an infant and his many food sensitivities now, I couldn't risk taking any shortcuts that compromised the level of nutrients in his food.
He was also diagnosed with Failure to Thrive (FTT) and he is still very small, so I am vigilant when it comes to choosing the most nutrient dense foods to help with weight gain.
RELATED: How to Fight Flu Fast with Homemade Elderberry Syrup
Isn't Fresh Best?
Not always.
It actually varies from food to food.
When I began researching, I was quite surprised to learn that fresh produce actually begins losing some of it's nutritional value on it's way to the grocery shelf.
When I found studies showing that frozen vegetables maintain just as many nutrients as fresh veggies (if not MORE) I was thrilled!
BONUS TIP: Frozen fruits and veggies add a nice texture to your smoothies and you won't need to use ice!
Is Organic Necessary?
Should you choose conventionally grown foods or spend more for organic?
Mayo Clinic says the evidence is growing that organic foods have more benefits than those grown conventionally.
The Environmental Working Group (EWG) lists the dirty dozen for 2018 as:
Strawberries
Spinach
Nectarines
Apples
Grapes
Peaches
Cherries
Tomatoes
Celery
Potatoes
Sweet Bell Peppers
Hot Peppers
Choosing and buying organic also means you are avoiding genetically modified foods. To learn more about why GMO-free is so important, be sure to read my post GMO Foods & Kids: The terrifying dangers & how to protect your family.

Stocking up
So with all of that in mind, here are the foods I have on hand for easy to make, healthy smoothies for kids without frequent trips to the store.
Hopefully this will give you some ideas for kid friendly smoothies too.
Carrots
I like to use fresh pressed carrot juice in our smoothie recipes, especially when in a hurry. I actually used to put an ounce of this carrot juice (mixed with homemade formula) in Beckem's bottles when he was a baby.
Bags of frozen organic carrots are handy to keep in the freezer too and add a little more texture to your smoothie than the juice does.
Spinach
Green smoothies are one of our favorites so spinach is a staple ingredient in almost all of our smoothie recipes.
Frozen bags of organic spinach make it simple to make kid friendly smoothies with spinach for kids.
If you are in an even bigger hurry, this organic spinach whole leaf powder is a helpful alternative. One scoop is equivalent to 1 cup of fresh spinach.
Blueberries
I always buy the jumbo bag of organic frozen blueberries for our breakfast smoothies.
Between smoothies and yogurt toppings, we go through a lot of blueberries at our house!
I also like to keep the fresh pressed organic blueberry juice on hand in case I run out of the frozen.
Pineapple
Organic pineapple isn't easy to find (and isn't reasonably priced) in my area yet. Since pineapple isn't on the dirty dozen, I buy conventionally grown pineapple.
If I find a good deal on fresh pineapple, I stock up and freeze it myself. Otherwise, I buy the bags of frozen pineapple.

Bananas
Banana smoothies are another favorite at our house. I buy a bunch of bananas that are ready-ish to eat, and another bunch that are more green.
The green ones are perfectly ripe and ready when we finish the first round of bananas.
So we have an ongoing rotation of bananas…whatever it takes to keep the monkeys happy! 🙂
Pro Tip: Never throw out overripe bananas! If you aren't ready to use them in banana bread, just freeze them. Simply peel them, place in a ziploc bag and toss them into the freezer!
Strawberries
For our strawberry smoothies I buy fresh organic or frozen berries.
Liquid
You will usually need some type of liquid in your smoothie to make it easier to drink.
We usually use Organic oat milk as our smoothie base.
However, if I'm using the fresh pressed juice, I might leave the milk out or use less of the milk.
It also depends on how thick/thin you like your smoothies. When the boys were toddlers, they didn't like their smoothies very thick but now they don't mind a little texture.
Protein
An easy way to add high quality protein is with this organic plant based protein powder.
Keep it simple
Feeding our family healthy foods doesn't have to be complicated.
Keeping these ingredients in your home will allow you to simplify smoothie making without sacrificing nutrition.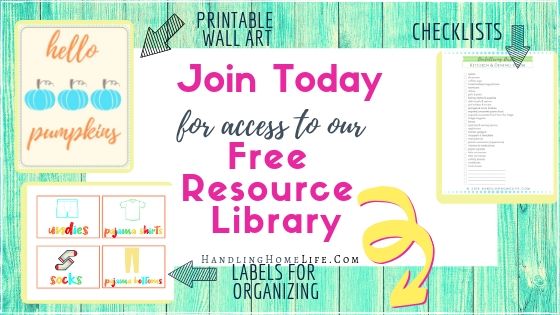 What are your go-to smoothie ingredients?
BEFORE YOU LEAVE….will you do me a BIG favor?
If you liked this and thought it was helpful, would you share to Pinterest or Facebook? It lets the search engines know that I provide quality content and helps keep my website alive.
Thank you SO much!!
All content here should be considered as opinion only. Always seek the advice of your own health professional for any questions or concerns you may have regarding your health or the health of others See full disclaimer.