Keeping a clean house is an on-going struggle for me. I'm always looking for good cleaning tips that will make things easier and help me clean faster.
I feel like a house cleaning success most days if I manage to get the dishes washed and bathroom cleaning accomplished.
I actually do pretty well maintaining the daily routine cleaning tasks, but struggle with those unseen places where dirt and germs seem to lurk.
There are many things in our homes that are not just dirty, but could be harboring germs and bacteria that can make our family sick.
Here are cleaning tips for 7 things we really should be cleaning, but probably forget….
CLICK TO READ: CLEAN HOUSE FAST FOR UNEXPECTED GUESTS: SPEED CLEANING TIPS
---
This post may contain affiliate links meaning that I may earn a small percentage (at no extra cost to you) if you make a purchase through a link that I share. See full disclosure.
---
SHORT ON TIME? SAVE TO PINTEREST NOW & READ ABOUT THINGS YOU ARE FORGETTING TO CLEAN LATER!
1. Trash Cans
It might seem a little crazy to clean something that holds all of the yucky stuff we throw away, but we definitely need to remember to regularly scrub all of the trash cans…even the outdoor trash cans.
I like to take all of the household trash cans outside and fill with water, vinegar, and dish soap, then leave them to soak before scrubbing.
The best way to reach into the depths of the trash can filth is by using a scrubber with an extendable arm.
A cordless, electric scrubber brush will not only come in handy for cleaning trashcans, but makes cleaning the bathtub and shower so much easier…and it's great for that awkward spot behind the toilet too!
A great home cleaning tip to make make a dreaded household chore a bit easier.
CLICK TO READ: Best Cleaning Tools for Your Home
2. Shower Curtains
Damp, warm bathrooms can cause mold and bacteria to take up residence on your shower curtains.
Yuck!
Thankfully, it's super easy to clean your shower curtains and liners.
Cleaning Tips for Plastic Shower Curtains and Liners
You should be able to wash these in your washing machine on the gentle cycle (check label to be sure).
Wash in hot water and throw in a couple of towels too. I use a fragrance free laundry detergent and also add 1 cup of vinegar.
No need to dry them. Simply hang them back on the shower rod.
CLICK TO READ: House Cleaning Tips: Why Your House Still Doesn't Look Clean
Fabric shower curtains and liners.
I've simplified things and only use a fabric shower curtain/liner for the kids' bathroom.
It's quick and easy to throw in the wash and looks great for much longer than the plastic liners.
Machine wash in hot water and dry on low setting.
---
*A NOTE ABOUT WHAT CLEANERS I USE*
When cleaning my house I not only want things to look and feel clean, but I want to do so WITHOUT Toxic cleaners.
There are many non toxic ingredients you can use to safely clean that you probably already have in your housekeeping arsenal.
Safe, healthy, green cleaning is extremely important to me, but so is convenience.
I love helpful cleaning tips and like to make life easier whenever I can!
It's a little bit of a pain to pull out all the supplies and mix up cleaners (a pain I'm happy to endure for my family's health), but I'm always hopeful when I see a newly advertised cleaner with big promises. Any time saving alternatives get my attention!
From time to time, I used to buy and try whatever new cleaner claimed to be "natural" and "non-toxic"–even with the outrageous price tag.
But here's the deal:
Time after time I'm disappointed.
After one use, I'm wheezing and have a pounding headache.
Then, I have a practically full bottle of expensive cleaner left that I can't even use.
When I started seeing ads on Facebook for the cleaner called Force of Nature, I was intrigued.
They make bold claims but the price tag seemed pretty bold as well! I sure didn't want to pay that much money for another cleaner I can't use.
When I saw that Force of Nature has a 100% happiness guarantee, I was sold. I could have 30 days to try it and if not happy, I could send it back for a refund—which gave me peace of mind.
Full disclosure: I purchased Force of Nature before I started my blog so I was not an affiliate then, but I am an affiliate now—so if you purchase through my links, I receive a commission (which helps pay the fees associated with keeping this blog online)
So, when buying Force of Nature for the first time you get a starter kit with the activator base, spray bottle, and 5 activator capsules which is enough to make 5 bottles of cleaner. Then you only purchase activator capsules in the future.
For the first time EVER, I'm able to easily clean my home without becoming ill and without compromising my family's health with toxic chemicals.
I love not having to drag out all of my cleaning ingredients and mix up cleaners. Force of Nature has replaced all of those!
I use it to clean everything and it's completely safe to use around the kids and pets.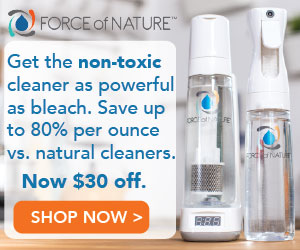 ---
3. Brooms and Dust Pans
Much like trash cans, brooms and dust pans can get pretty icky!
To make sure your broom is in tip-top cleaning shape, you need to give it a bath from time to time. This is a good chore to do during your spring cleaning.
First, it's helpful to have brooms designated for various areas.
I have a garage broom, a porch broom, and a house broom.
This prevents contaminating my kitchen floor with the same broom used to sweep spilled kitty litter from the garage.
A good way to get me riled up?
Use my house broom in the garage or on the porch!
So when it's time for a broom-bath, first, take your broom outside to shake out any dirt and dust. You can also use your vacuum attachment to clean the dirt from the bristles.
Next, simply fill a bucket with hot water, vinegar, and dish soap and let the broom bristles soak.
Wipe down the broom handle and rinse the bristles with warm water. Dry with a cloth and then place in the shower to finish drying.
Definitely don't use the broom until it's completely dry!
Dust Pans
I let the dust pans soak just like the broom. Then rinse and dry with a cloth.
CLICK TO READ: How to Quickly Organize Kitchen Cabinets in 1 Day
4. Vacuum Cleaner
A good vacuum cleaner isn't cheap, so keeping it clean will keep it working efficiently.
You will want to consult your owner's manual for specific instructions when cleaning your vacuum. You can also find a YouTube video for how to clean your vacuum if you'd like a visual how-to.
I usually do this dusty chore outside. First, make sure your vacuum is unplugged before cleaning.
Then, either change the bag or empty the canister. If a canister, clean with warm soapy water and allow to dry completely.
Next, clean the filters. I use my air compressor to blow the filters out. (You can also use a can of compressed air).
Now, clean all of the yuck that is tangled around the roller brush. You can use scissors or a seam ripper to free the strands and pull them out.
This is when I use my air compressor again and get into all the nooks and crannies of the vacuum cleaner.
Once all the dirt and dust is gone, wipe down the roller brush with rubbing alcohol. Then use a microfiber cloth to wipe down the outside and you should be good to go!
TIP: You might want to wear a dust mask and eye protection…especially if you are an allergy sufferer.
CLICK TO READ: 18 Things Making Your House STILL Look Cluttered: Decluttering Tips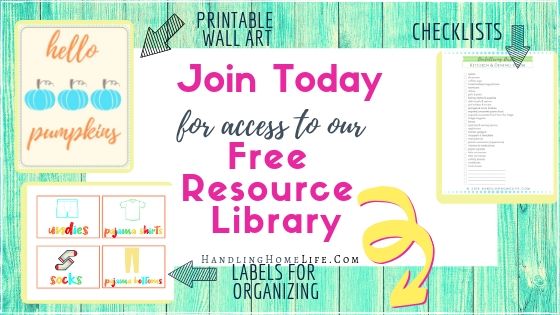 5. Cleaning Tips for Air Purifiers
There are several cleaning tasks that I use my air compressor for, so I like to tackle them while I have it out.
When cleaning your air purifiers, be sure to consult the owner's manual for any specific instructions and recommendations.
But, the general idea is to clean or change filters, and blow out all of the vent areas.
Be sure it's unplugged. Remove the filters and blow the dust out with your air compressor. You can also vacuum with an attachment….or you can do both! (I do this outside)
Now wipe down the air purifier with a cloth.
A good Air Purifier not only cleans the air but also removes odors.
TIP: In order to keep up with when I changed or cleaned the filter last, I quickly print a label and place it on the back of the purifier.
6. Cleaning Tips for Window Screens
This is one of my most detested chores.
Cleaning window screens is one of my spring cleaning tasks.
The most thorough way to clean screens it to remove them, but I leave them on the window when cleaning.
First, I vacuum the screen gently with the soft brush attachment.
Then, I use the crevice attachment to clean all the little spaces around the edge of the screen.
I also use my air compressor if there are spaces with dust and dirt that can't be reached with the vacuum.
Now, use a microfiber towel and cleaner to carefully clean the screen from top to bottom.
CLICK TO READ: Feel productive and happier at home with these 4 steps
7. Laundry Baskets & Hampers
Laundry baskets can get pretty disgusting…especially the ones that hold dirty kitchen towels.
I have two types of laundry baskets and hampers:
Cleaning Tips for Fabric Laundry Hampers
I have ( and love ) this 3 bag laundry sorter. The label says to hand wash the laundry bags, but I can't be bothered with all of that.
I wash on the gentle cycle in cold water. I use fragrance free laundry detergent and about 1 cup of peroxide.
Then I dry on a low setting.
I have this laundry sorter with mesh bags that I use for towels.
Dirty bath towels go in the blue bag and kitchen towels go into the white bag.
When it's laundry day, I simply throw the mesh bag in with the towels that are being washed.
CLICK HERE TO READ: Money Saving Laundry Tips for Frugal Busy Moms
Cleaning Tips for Plastic Laundry Baskets
I use lots of these small round plastic laundry baskets to sort clothes since I only do laundry ONE DAY per week (for family of 5).
To clean the plastic laundry baskets, I place them in the bathtub and spray them down with Force of Nature and leave them for a bit.
Then I wipe them down and they are clean and ready to use!
What things do you forget to clean? Be sure to share in the comments below!
BEFORE YOU LEAVE….will you do me a BIG favor?
If you liked this and thought it was helpful, would you share to Pinterest or Facebook?
It lets the search engines know that I provide quality content and helps keep my website alive.
Thank you SO much!!